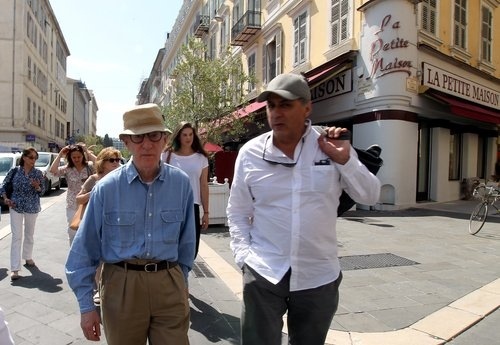 Woody Allen has arrived in Nice in southern France. Along with a small crew, he is preparing for production of his 2014 film, which starts production next month.
Just last week Allen played his last jazz performance for this season in New York. We assumed he was taking a break to prepare for the release of Blue Jasmine. But no, he's actually pushing forward with something new.
An article from NiceMatin.com covers Allen spotting, and they also got the pic above. We don't know who the man on Woody's left is, but his producer (and sister) Letty Aronson is behind him. Hopefully the coverage of this new film will be up there with San Francisco last year, with plenty of social media pics and coverage of the shoot. Right now though, it seems like Allen and his team are just wandering around town, looking at locations.
It's a very exciting time for Allen, with the 2014 film production and the Blue Jasmine release roll out. We look forward to a busy summer!
If you are in the south of France and see Woody Allen about, please let us know!