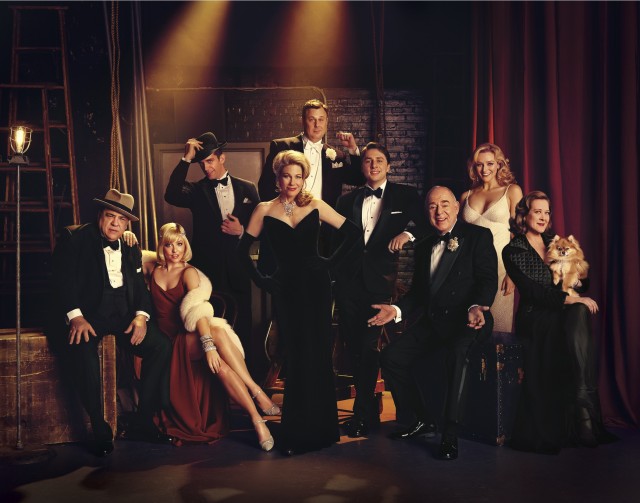 We finally know the songs that make up the Bullets Over Broadway Musical, which is currently in previews in New York. Based on Woody Allen's 1994 film, he also played a big role in choosing the songs used. Here's our look at the songs that were chosen.
A couple of things to note. All the songs come from the 20s and the 30s where the musical is set (and from Allen's beloved jazz). In some cases new lyrics were written to help with the characters and plotting. Finally, we are still in previews and songs may well be cut from the final show. In fact, we know the show is running long, so anything can happen.
Interesting song choices. Unlike Everyone Says I Love You, this collection of songs is far more obscure. Only two songs have made it over from the film soundtrack.
Here's what we have.
Tiger Rag
One of the most famous songs from the period opens the show, with a large dance number set in a gangster's club performed by dancers with tiger tails. It was first recorded by the Original Dixieland Jass Band in 1917, making it the oldest song from the musical. However, it was an instrumental until 1931 when lyrics were added by Harry DaCosta, and became a huge hit for The Mills Brothers.
Gee Baby, Ain't I Good To You
This beautiful ballad was written in 1929, and recorded by the McKinney's Cotton Pickers that year.
Blues (My Naughty Sweetie Gives To Me)
Recorded in 1919, by Esther Walker.
'taint A Fit Night Out For Man Or Beast
Couldn't find out much about this one. Here's a version by Sydney Bechet.
I Want a Hot Dog for My Roll
Sung by Helene Yorke in the show, this sexually explicit number has been one of the early favourites from the show.  Originally performed by comic duo Butterbeans and Susie, it was so racy even their own label wouldn't release it initially.
They Go Wild, Simply Wild, Over Me
Written by Fred Fisher and Joe McCarthy in 1917. In the show, it featured additional lyrics.
(Up A) Lazy River
A wonderful song written by Hoagy Carmichael and Sidney Arodin in 1930. We've also heard this is an early audience favourite.
This song also appeared on the soundtrack to the 1994 film version.
I'm Sitting on Top of the World
Written by Ray Henderson in 1925, with lyrics by Sam M Lewis and Joe Young. Al Jolson was amongst the first to record it that very same year.
Let's Misbehave
Written by Cole Porter in 1927 and performed by  Yorke and Brooks Ashmanskas in the show. Allen loves this song, and used it in the film version of Bullets Over Broadway and Everything You Always Wanted To Know About Sex. Porter, one of Allen's favourites, has his music in over a dozen Allen films, and appeared as a character in Midnight In Paris.
There's a Broken Heart for Every Light on Broadway
Written by Fred Fisher (again) and Howard Johnson in 1915. Another one with added lyrics in the show.
Here's a very odd version we found
(I'll Be Glad When You're Dead) You Rascal You
Written by Sam Thread in 1931, it was performed a year later by Louis Armstrong on a Betty Boop short.
'Taint Nobody's Biz-ness If I Do
First recorded in 1922 by Anna Meyer And The Original Memphis Five.
Performed by Nick Cordero in the show, with additional lyrics.
Runnin' Wild
A star turn for Marin Mazzie in the show. Written in 1922, it was immortalised in the film 'Some Like It Hot', sung by Marilyn Monroe.
Another song with additional lyrics
There's a New Day Comin'
Ted Lewis And His Band first recorded it in 1933, as did Harry Roy.
There'll Be Some Changes Made
This song was written by Ben Overstreet and Billy Higgins in 1921.
Another one with additional lyrics.
I Ain't Gonna Play No Second Fiddle
Bessie Smith recorded this in 1925.
Good Old New York
Jelly Roll Morton wrote this song in 1939, one of the latest songs from the show.
I've Found a New Baby
Performed by Betsy Wolfe in the show, this song was written by Jack Palmer and Spencer Williams. It was first recorded by Clarence Williams in 1926.
The Panic is On
A 1931 song by Hezekiah Jenkins, referring to the Great Depression.
She's Funny That Way
Written by Charles N Daniel and Richard A Whiting in 1928.
Yes, We Have No Bananas
Additional lyrics feature in this song by Frank Silver and Irving Cohn. It has been on Broadway before, when it appeared in 1922 in the revue 'Make It Snappy'. A strange article in the NY Daily News claims some of the people involved don't like the song, but haterz will hate.
If anyone can shed more light on these songs, we'd LOVE to hear from you.
We are dying to see these songs performed, and see what Allen, Susan Stroman and the performers have done with them. Certainly many interesting and left field choices in the bunch.
The 'Bullets Over Broadway Musical' officially opens on 10th April 2014. We will see if any changes happen between now and then, if any songs are removed or added, and reviews should flood through.