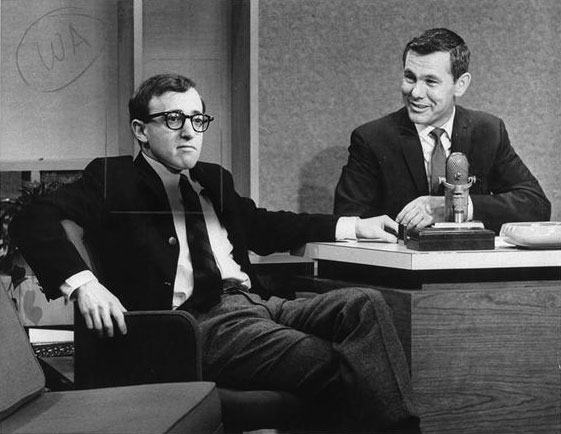 Here we are in 2014, celebrating the start of another year. Amazingly, we know where Woody Allen was when the new year started exactly 50 years ago. Already a working comedian, Allen was actually part of a live broadcast of 'The Tonight Show', hosted by Johnny Carson.
We don't really have a video – this is an audio recording of the broadcast. After a recap of 1963 and the dropping of the ball, Carson chats to the other guest Rudy Vallée before Carson starts talking to Woody at 5:10.
During the segment, Allen brings his then girlfriend Louise Lasser onstage, and the interview turns into banter between all three of them.
Lasser would marry Allen in 1966 and appear in several of his films in the early 70s (including Take the Money And Run, Bananas and Everything You Always Wanted To Know About Sex). She recently discussed Allen in a new interview.
Allen actually returned to Carson for a New Year's Eve show in 1965 to ring in 1966. Something we will post in two year's time?
Happy 2014 everyone!