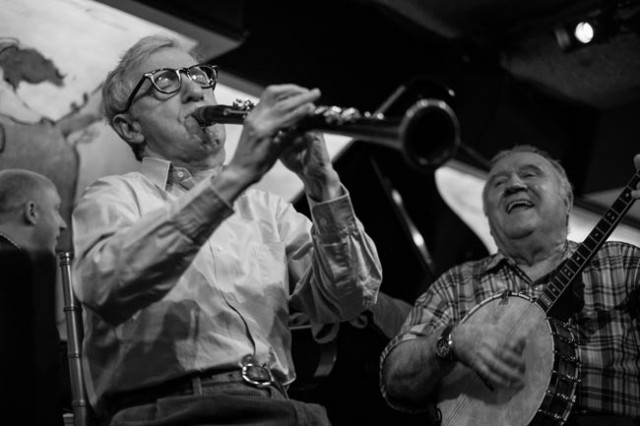 At age 78, Woody Allen's showing no signs of slowing down. Along with his films and writings, Allen's been a fixture of the New York Jazz scene, appearing almost every Monday night at the Cafe Carlyle with the Eddy Davis New Orleans Jazz Band. That residency is set to continue into 2014.
The Cafe Carlyle have announced their winter season. But Allen and the band's season lasts well past the winter. The Carlyle website now lists the shows as:
January 13 to June 16
Mondays at 8:45 p.m
Cover Charge:
General Seating, USD155 per person / Bar Seating, USD110 + USD25 drink min / Premium Seating, USD205
For inquiries, please contact The Carlyle or call +1 212 744 1600
This announcement comes on the eve of two very special shows in Los Angeles.
22nd December 2013
Throckmorton Theare, Mill Valley, Los Angeles
Monday 23 December 2013
Royce Hall – UCLA, Los Angeles
Some tickets are still available for the 23rd show. Tickets from Ticketmaster.
This follows another successful year of music for Allen. In 2013, the band played from January til June, before taking a break to France where Allen made his upcoming film Magic In the Moonlight. The entire band went along and they did two shows in the South Of France. The Carlyle dates suggest that Allen will make a new film in the July-August period once again.
Find out more about the Carlyle Hotel.