It's January, so we wanted to take some time out and talk about some of the new stuff we are going to try and do in 2015, and some recent changes. Of course, there's always work being done across the various site sections.
First, we are turning our film pages into film guides. Hopefully they will become great resources for fans of every Allen film, new and old. Lots of trivia, photos, information, box office, quotes, locations and more. They are a constant work in progress, but we have started with Take The Money And Run, Bananas, and so forth.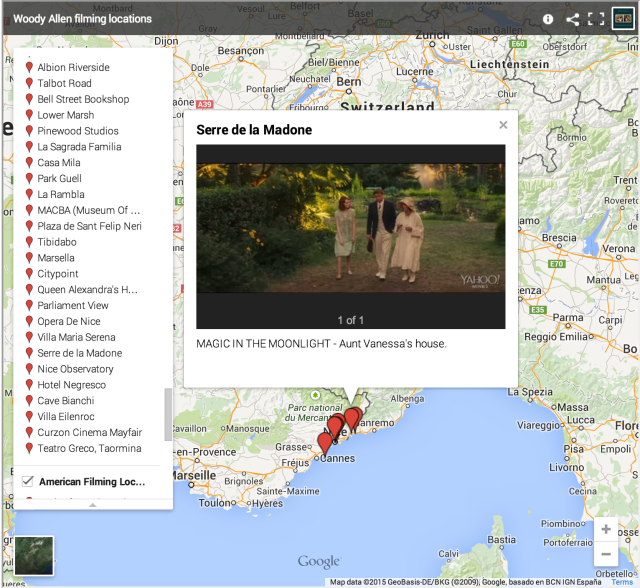 Speaking of Locations, we have made some improvements to our Filming Locations Map, with a new engine by Google. We now have over 200 locations on our map, with over 100 in NYC alone – and many of them are illustrated. There are still gaps – in particular the London locations – but we also have lots of data we can use for other purposes. Anyone want to help us build an app?
We have finished up our reviews of all the Woody Allen films, and many of the films that Allen only acted in. We have features on the Music of Woody Allen films coming up. We have some more ideas – but ideas are always welcome.
We are still adding to everything else. More and more quotes and birthdays, more and more Faces. We now have over 300 faces and we've updated our mosiac below. Click to enlarge.
We've also added Magic In the Moonlight to the Amazon Store.
We are as always a one person operation. We are hoping the traffic and the ads will let us upgrade our hosting this year. If you want to help us with our goal, the best thing you can do is help spread the word – share our articles, join us on social media and tell people. You can also donate to support us!
If there's anything you want to see here in 2015, please drop us a line and let us know.