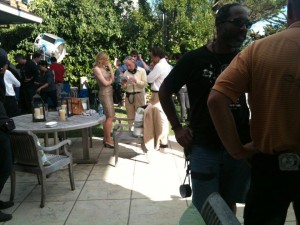 Thanks to reader Chandan for this tip – a fantastic blogpost from Claire Marie taking us behind the scenes of Woody Allen's 2013 film Blue Jasmine. The film was shot in San Francisco last summer, and as usual details are tightly under wraps. The post is from a couple of months ago, but it gives us some important insight. Some spoilers ahead.
Claire's mother's house was used to film a key scene in August last year. The house is in the Belvedere district of San Fransisco. We've seen some photos of this scene before, although we had not spotted Peter Sarsgaard in this scene before. Also in the scene are Cate Blanchett and Louis CK.
Amongst the plot revelations; Blanchett's character moves to San Francisco and actually meets her half-sister for the first time (played by Sally Hawkins). Blanchett is invited to a party and meets her 'love interest' in Sarsgaard (is the friend Louis CK?). It seems many of Allen's regulars extras appear in this party. Finally, there's a sex scene!
Claire's got lots of great photos from behind the scenes on her blog, Eclair. Go check it out!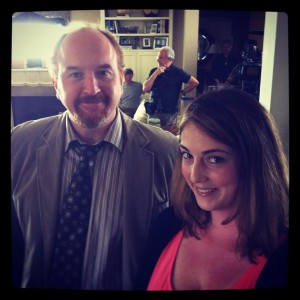 'Blue Jasmine' is released in the US on 26th July 2013, with other markets to roll out over the next few months. We anxiously await more details!