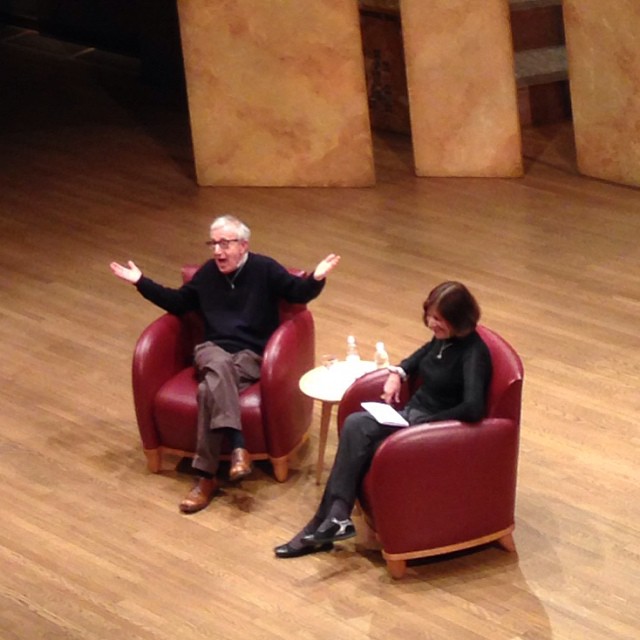 Woody Allen made his scheduled appearance at Princeton this week. He recently donated a new collection of papers to Princeton – including scripts, essays, drafts and more. As part of the new acquisition, Allen appeared and was interviewed on stage.
Allen was interviewed for an hour on stage. We don't know if the event was filmed. The Wall Street Journal has covered the event:
On talent:
Mr. Allen insisted artistic talent is luck and characterized himself as "a firm believer in nature over nuture." Because being funny required, "no great effort," he explained,"I pursued it." "I'm lazy," he offered to laughter. Asking how someone who is lazy could churn out a movie a year, Mr. Allen insisted, "my productivity looks better on paper," and "I'm not working all the time, by any means. You know, in fact I do a lot of meaningless things."
On his influences:
Mr. Allen explained, "oddly enough, I never wanted to be a comedy writer, I wanted to be a dramatist." He cited playwrights Eugene O'Neill, Tennessee Williams, Arthur Miller, Ibsen and Chekhov as inspirations. Cinematically, he was "profoundly inspired" by the work of Ingmar Bergman whose films, "knocked me out." But Mr. Allen explained, "I found when I did these, they were funny. But it's not really what I wanted to do."

Mr. Allen cited Groucho Marx, W.C. Fields and particularly Mort Sahl as comedy influences. He described Sahl as revolutionary, "with no antecedents" and "like a kind of quantum natural selection leap," who inspired him to perform. "The biggest influences on my life were Mort, the Marx Brothers and Bergman, a strange triumvirate."
On his most successful films:
Mr. Allen explained that whenever he starts a project "I think the idea is going to be 'Citizen Kane.' I think it's going to be the greatest film anyone that has ever seen." But "the truck full of compromises blows up" and by the end of the process "you just want to not be humiliated." He categorized "Match Point," "The Purple Rose of Cairo," "Husbands and Wives" and "Midnight in Paris" as favorites, projects that "have come out as I envisioned them."
Listening to #WoodyAllen speak at Princeton. Still very funny! pic.twitter.com/sDJLTHVJ5F

— Lisa Bergman (@bergmanlibby) October 28, 2013
Princeton also posted a pic of Allen and Soon-Yi walking around the grounds.
Woody Allen and family touring the @Princeton campus on Sunday afternoon, thanks to @PrincetonRBSC pic.twitter.com/s0CHPXb4Sb

— PrincetonTT (@PrincetonTT) October 28, 2013
Princeton also blogged about the new papers, revealing that since 1980, Allen has delivered 48 boxes of material!