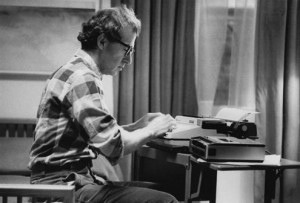 Princeton University in New Jersey has officially announced a new collection of Woody Allen's papers on display. It coincides with an appearance by Allen on October 27.
The papers will be displayed at the Firestone Library. According to the Princeton Blog, the papers are on display from 21-28 October, but they will live on their archives thereafter.
Scripts on display include
What's New, Pussycat?
Sleeper
Annie Hall
Manhattan
The Purple Rose of Cairo
Hannah and Her Sisters
Vicky Cristina Barcelona
Midnight in Paris
Not just the finished scripts, but various drafts will be on hand.
Allen has been donating his papers to Princeton since 1980. Amongst the latest set are drafts and proofs of short stories, essays, plays and more.
Allen is due to appear at the university on the 27th October 2013, to discuss the papers. Tickets are only available to students and friends of the university at this point.
There are bound to be revelations in the papers. Maybe that 3 hour, original Annie Hall where Diane Keaton was just one of many relationship stories is revealed in the papers. If any of you readers go to Princeton, we would love to know!