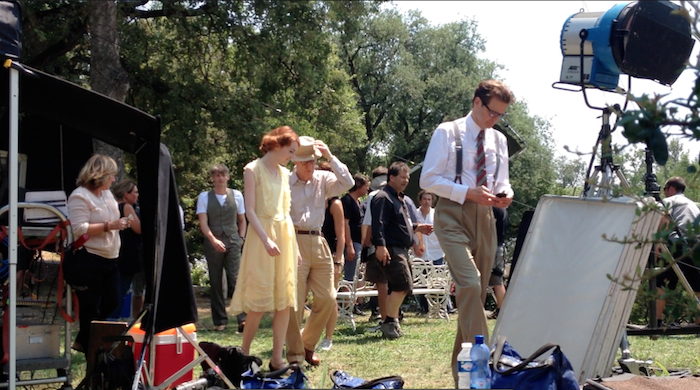 Judaicine, a company who helps promote Jewish and Israeli film in French cinema, have nabbed a very cool exclusive. It's our very first real look at Woody Allen's 2014 film, with a very cool picture of Emma Stone and Colin Firth. Woody Allen, in his every day hat, is there as well.
The behind the scenes pic tells us little so far, but it does continue to rich bright look of the film. We don't know which part of France this was taken in.
In other bits of 2014 film business, Twitter user @prescottic tweeted this pic of Emma Stone in France. She appears to be on set, wearing almost a caricature of a French outfit.
Production is moving to Antibes next, according to the Riviera Times, in particular at Villa Eilenroc. Those with digital cameras and our email address please take note! More pics please!
Allen played a concert in Antibes earlier in the week. Here is him being mobbed (thanks to Jerry Zigmont @jerryz)
Finally – all this France stuff means he has missed all the Blue Jasmine premiere activity. At the after party (according to the NY Times), a message was read out to the crowd from the notoriously evasive director.
I am in the South of France, so I can't be there this evening. I only wish I was in New York and couldn't be there.
We will be bringing you every bit of news we can find of the new film. If you see the cast and crew out in France, take a pic and send it in!