With less than two weeks to go until Blue Jasmine gets it's first release in the US, we have more images, a great locations guide and more reactions from recent press screenings.
Even more pictures! This latest selection features Cate Blanchett, Alec Baldwin, Peter Sarsgaard and one quite arty shot of Allen himself.
San Francisco Magazine has put together the clues to provide a map of SF places featured in 'Blue Jasmine'. They also interviewed people at those locations.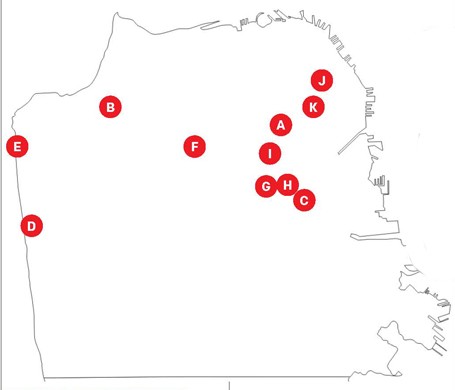 For example:
B) 5546 Geary Street, Gaspare's Pizza House & Italian Restaurant: Jasmine takes Ginger's two kids to dinner and talks about her life in New York. "They had wonderful close-ups of my house chardonnay," says owner Gaspare Indelicato. "They wanted smoke coming off of the pizza in each take, so we had to make maybe five or seven pizzas." Adds Indelicato's daughter, Julietta, who portrays a waitress in the scene, "I told [Blanchett] I was taking acting lessons, and she told me to do theater first, no matter what."
Find the full thing over on their site. It's great.
Leonard Maltin has seen 'Blue Jasmine' as well, and he highlights one performance in particular. And he did it on Twitter too.
@TheRealDiceClay you did a spectacular job in Woody Allen's new film, truly an impressive performance

— Leonard Maltin (@leonardmaltin) July 12, 2013
And it's more awesome because Andrew Dice Clay responded!
Hollywood Elsewhere joined in with the praise.
Cate Blanchett's fierce, ragged-edge performance as the Ruth Madoff-y Jasmine, the pill-popping, vodka-slurping widow of a disreputable high-finance finagler (Alec Baldwin), burns into your head minutes after the film begins and all but forces you to acknowledge that she's an instant Best Actress contender.
Hitfix also weighed in
The film is pretty great. It's not some romp squeezed in between more substantial Allen efforts. It has a lot on its mind, ideas it handles well in both the macro and the micro throughout. But mostly it's an awesome vehicle for a top-notch cast to unload, with Blanchett way out in front.
Only two weeks to go, and it's been a while since US critics have been this excited for an Allen film. Let's see if that affects the box office in any way. Either way we are pretty excited.