Another week, and another series of updates on the production of Woody Allen's 2013 film. This week saw more shooting of the still-untitled film, including our first look at Andrew Dice Clay, and perhaps word that shooting has wrapped.
Last week, Allen and his team shot in East Quogue in the Hamptons. It was our first look at Alec Baldwin, and of course the film's lead Cate Blanchett was on hand. Hamptons.com are also reporting that Louis CK was also spotted.
Louis CK has also dined with Woody Allen, and the result of that has already led to something wonderful. Comedian Tig Notaro has had a tough few months, but amongst all that gave a fantastic performance at the Largo in LA. Somehow, after a conversation with Allen, Louis CK was inspired to help Notaro out and he will be releasing Notaro's Largo set on his website. Splitsider has the full story, including her interview that mentions Woody with Conan.
Shooting this week moved to the Tribeca are of New York this week. Locations included the area around Walker St, Broadway, 6th Avenue and Canal St. Tribeca Citizen has the full filming breakdown.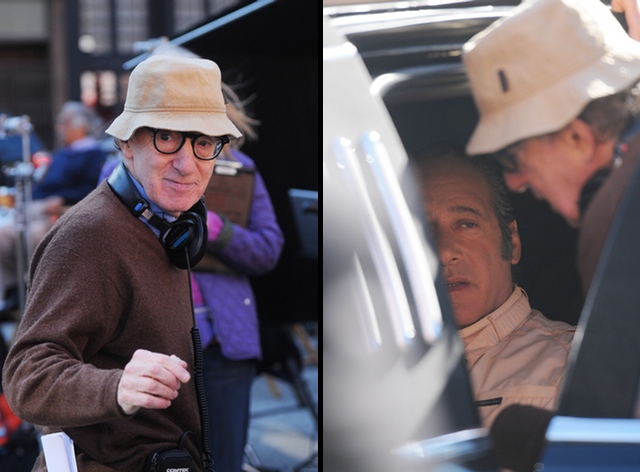 The filming saw our very first glimpse of comedian Andrew Dice Clay. Also spotted in these scenes were co-stars Sally Hawkins and Alec Baldwin. Photos are from Gothamist, who also claim definitively that Woody Allen won't be onscreen himself.
One other celebrity has been announced as part of the new film, but not as an actor. Chanel's Karl Lagerfeld has designed outfits for Cate Blanchett, according to Elle UK. We know that Blanchett's character spends part of the film being an upper crust New Yorker – and so this fits.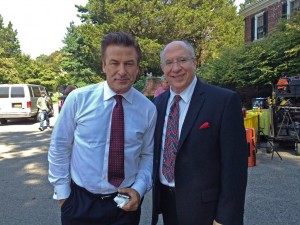 Best pics of the week come from Dr Kenneth Edelson. Never heard of him? We'll this is his 15th Woody Allen film! He's one of Allen's friends and has appeared regularly in minor roles or as an extra. Check out his filmography on IMDB and go back and try and spot him. He posted wonderful pics of Cate and Alec on set. He also alluded that shooting has wrapped after shooting in NYC for almost a month.
We've been providing lots of coverage on the 2013 film. If shooting has indeed wrapped, we will do a thorough round up of all the stars, plots and details we know about the new film. Meanwhile, we are still waiting for one principal cast member to appear – Michael Emerson (maybe he got…Lost?).
What photos we have are below. You can follow all our coverage of Woody Allen's 2013 film here.