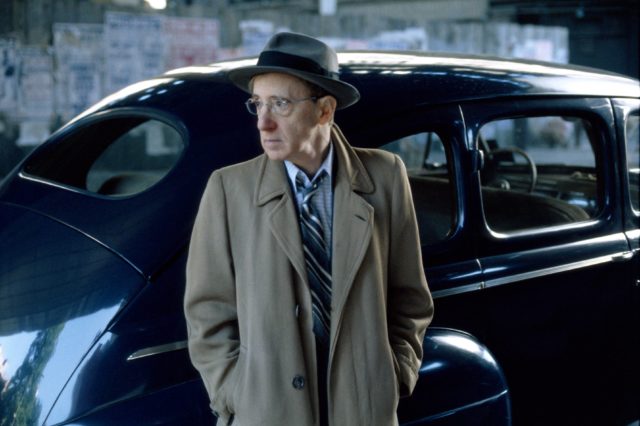 When Allen goes 'period', he tasks his team with finding locations that look like the past without being too far from his house. His team always do an incredible job – and The Curse Of The Jade Scorpion – one of his least loved and least successful films – looks great. Says Allen:
"Everybody works magnificently in a period picture. The costume designer becomes great. A production designer like Santo loves it. And the cameraman becomes great. It's when you give people a film in a contemporary setting that you get problems. They have to make this room look great and these clothes look great."
Allen and the team stuck mainly to interiors, shooting in diners, bars and ballrooms that mainly existed at the time, and had survived the decades. Lenox Lounge, The Rainbow Room and the Miss Williamsburg Diner were all existing places, slightly redressed and filled with extras in period costumes. The filmmakers had to go all over New York and New Jersey to find all the locations they needed. They key location of Briggs' office was built in a government building on 80 Centre St.
Briggs' office
80 Centre Street
This is a set built at 80 Centre Street.
Rocky's bar
288 Lenox Avenue, New York
Now closed – and the street has been renamed Malcom X Boulevard. We also see the exterior.
The Rainbow Room
30 Rockefeller Center
The real Rainbow Room is on the 65th floor of 30 Rock. We assume the backstage is the same location.
Miss Williamsburg
206 Kent Avenue, Brooklyn
This diner burnt down in 2009.
Fitzgerald's home
Gramercy House, 235 East 22nd Street.
The filmmakers changed the frontage.
North Coast Casualty And Fidelity office
20 Exchange Place
Kensington Estate
Old Westbury Gardens. 71 Old Westbury Road, Old Westbury, Long Island.
The Gloria Crest Estate
83 N Woodland St, Englewood NJ
The second mansion.
Grand Central Station
Hoboken Terminal, 1 Hudson Place, New Jersey
Not actually the real Grand Central Station.
Schinasi Mansion
351 Riverside Drive
Allen used this location previously, in Bullets Over Broadway.
Peter McManus Cafe
152 Seventh Avenue
Allen uses the disused subway entrance out the front of this old cafe. We later see part of the subway, which links to the 18th Street subway stop.
212 Centre St, New York
The garage in Chinatown, which is now gone. We assume the interior matches the exterior.
Check out all our filming location guides.