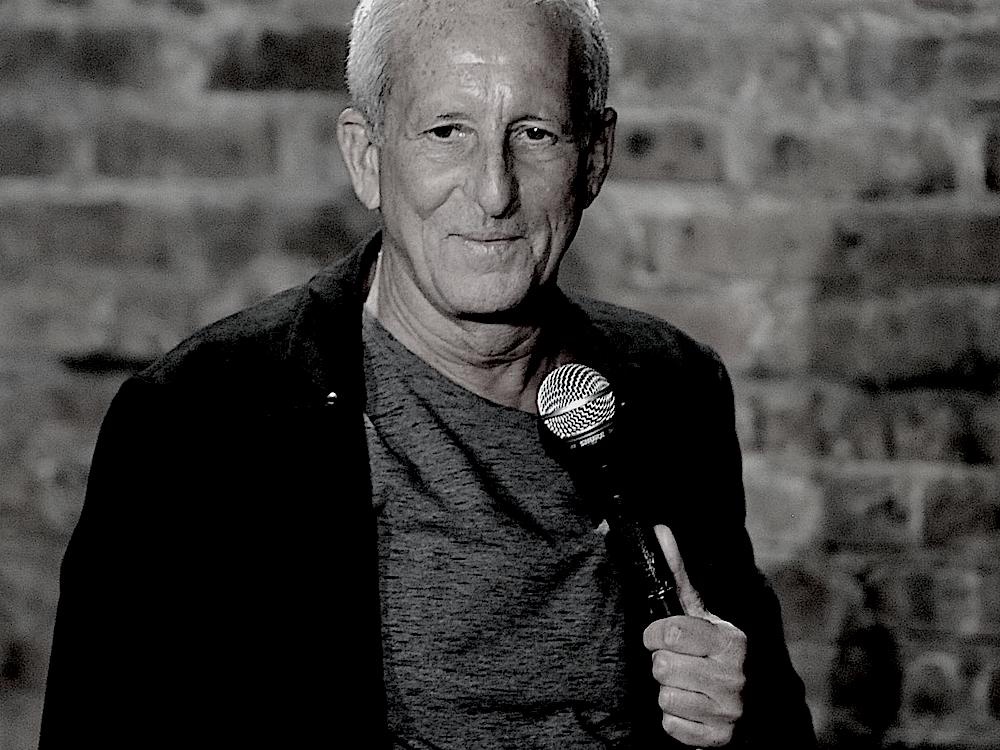 Diane Keaton, Mia Farrow, Dianne Wiest, Scarlett Johansson…Bobby Slayton? Comedian Slayton is fast becoming a Woody Allen favourite, working with Allen three times in the last four or so years. He had role in Allen's series Crisis In Six Scenes and the film Wonder Wheel. He is also set to return in Allen's upcoming film Rifkin's Festival. In a new, wide ranging interview with Interrobang, Slayton has talked abut meeting Allen and working in all three of those projects.
On meeting Woody Allen:
It's a funny story. There was somebody who used to come see me and he was friends with Woody. One night he says to me that Woody was coming over to his house for dinner in New York. So I said, "Can I come?" and he goes, "Yeah, I think he's a fan of yours." I guess Woody told him that he liked a routine I did, but it turns out, he had me mixed up with someone else. I had just gotten home to California and had been traveling a lot so I told my wife that I just got this invitation to have dinner at my friend's house with Woody Allen in New York and she was like, "You've got to go!" I remember calling Dana Carvey and Kevin Pollack and being excited about it. I mean dinner with Woody Allen was a big deal for comics. It was a really interesting hang. I flew to New York and I had dinner at my friend's house. It was him, me, Woody and his wife. One thing about me is that I can sit and talk to just about anyone. I prefer to talk with people in music or show business but I'm good at talking to people. I knew I wasn't going to talk to Woody about his movies. I knew he was a big basketball fan but I'm not a big sports guy. I knew he likes jazz, especially New Orleans jazz and I'm a big fan of the blues so I figured I would talk to Woody about music.
On Crisis In Six Scenes, and his long scene with Allen:
Amazon contracted Woody to do a TV show but he didn't want to do it so he wrote it like a movie and broke it into six scenes. I love it… and not just because I'm in it! Miley Cyrus was in it and she was great. She played kind of a Patty Hearst type of character, Woody's playing Woody, and Elaine May of Nichols and May came out of retirement for the project. I thought everyone was great. Judy Gold did a scene and I thought she was great and Lewis Black did a couple of scenes at a marriage counselor with his wife that were hilarious. Then Woody gives me a scene. It was the first time he called me and I'm not good at memorizing stuff. I really don't like acting. I'm not good at this but in "Crisis in Six Scenes" Woody gave me a seven-page scene that was just me and Woody sitting in a diner. As an actor, you're supposed to talk to somebody so you don't exactly have to memorize your lines, you can anticipate the conversation but in this series, Woody was playing this paranoid character who was saying some really crazy stuff so there really wasn't any interaction. He was just babbling so it was more like I just had to talk to him for seven pages.
On Wonder Wheel and getting the call up for Rifkin's Festival:
Then he put me in another movie he did called, "Wonder Wheel." The colors were beautiful. They recreated Coney Island from the 1950's. It was pretty astounding. Here's the best part. My manager calls me last summer and said that Woody wanted to know if I would do another movie with him in July. I was like, "Let me see if Zanies wants me. Let me see if I'm playing the Jukebox in Peoria, Illinois. Let me see if I can fit Woody in." LOL… Then they said that he was going to be shooting in Spain and I was like, I would love to go to Spain!
And a little more about Rifkin's Festival and his role:
We went to the Basque Country to a town called San Sebastian. It was a beautiful town. I didn't make a lot of money but they flew me first class and put me up in a nice hotel. The money was not important. Woody pays pretty much everyone the same, scale, because everyone wants to be in a Woody Allen movie. So, I get the script and there is one line. I called up my agent and asked for the rest of my lines. Woody doesn't give you the whole script. He's like Larry David, he only gives you your scenes so I thought they forgot to send me the whole thing. Then they go, "That is your scene" and I was like, Woody is flying me to Spain for one line?!
A couple of interesting revelations here. Firstly – that Crisis In Six Scenes started life as a film. Also, that Slayton's role in Rifkin's Festival is likely a cameo. If it doesn't get cut, which Allen is known to do.
There's a lot more about Woody at the full interview, including more about Rifkin's Festival, as well as Slayton's other roles. Allen is known for people he returns to working with and Slayton certainly seems to be one of the people Allen keeps tapping to appear. And of course, we hope for a lot more information about Rifkin's Festival.
Rifkin's Festival will be released some time later this year.