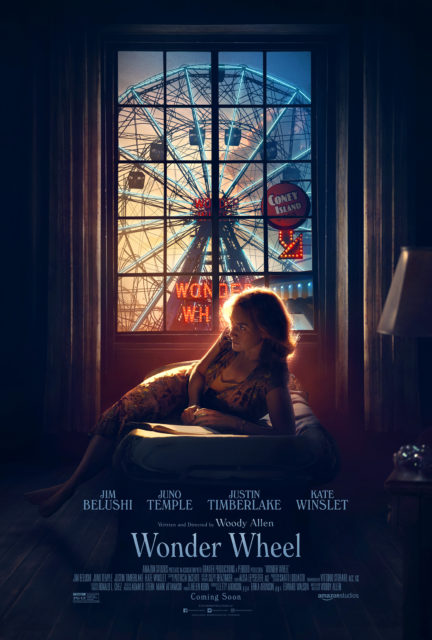 With just weeks to go before it premieres, we have the first poster for Wonder Wheel, the upcoming film written and directed by Woody Allen. We also have a lot more images of the cast and a new synopsis. Playlist has an excellent round up.
The poster puts star Kate Winslet front and (slightly below) centre. Very surprised by such a graphic inclusion of Coney Island's Wonder Wheel itself, although they have to start explaining what the title refers to. It definitely doesn't look like one of Allen's summer time European getaways.
The new photos are the biggest batch we've had so far. We get the rest of the cast – Jim Belushi, Steve Schirripa, Tony Sirico, Juno Temple and Justin Timberlake.
The new synopsis reveals character names and more of their story:
WONDER WHEEL tells the story of four characters whose lives intertwine amid the hustle and bustle of the Coney Island amusement park in the 1950s: Ginny (Kate Winslet),  an emotionally volatile former actress now working as a waitress in a clam house; Humpty (Jim Belushi), Ginny's rough-hewn carousel operator husband; Mickey (Justin Timberlake), a handsome young lifeguard who dreams of becoming a playwright; and Carolina (Juno Temple), Humpty's long-estranged daughter, who is now hiding out from gangsters at her father's apartment. Cinematographer Vittorio Storaro captures a tale of passion, violence, and betrayal that plays out against the picturesque tableau of 1950s Coney Island.
Wonder Wheel will premier next month at the New York Film Festival.