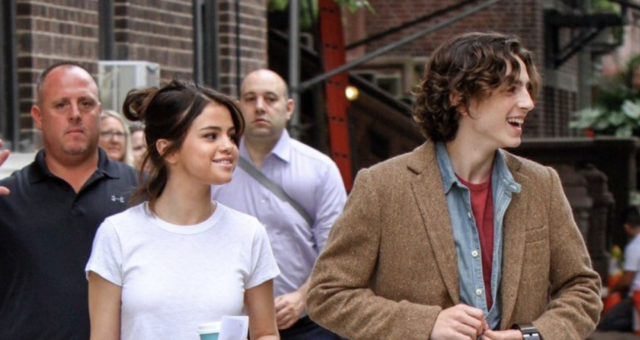 Two days of public filming in New York for Woody Allen. Filming on the upper west side, we get our first look at Liev Schreiber, as well as more of Timothée Chalamet, Elle Fanning and Selena Gomez.
Thursday Filming took place on West 70th Street between Central Park West and Columbus Ave. In particular, lights were set up facing into an apartment on 101 Central Park West, although the trucks were lined along 70th.
@olv 70th and CPW pic.twitter.com/YUqdDFLKxo

— londonchic (@londonchic) September 14, 2017
@olv UWS 70th and columbus pic.twitter.com/N51UnTx8tB

— Margaret (@GreenLight_711) September 13, 2017
Gomez was spotted with Chalamet, who was wearing the same outfit he wore on Monday's shoot. She was later spotted in a completely different outfit, suggesting two scenes were shot here. Daily Mail had pics (and talked about her recent kidney transplant).
Gomez, in a flagrant disregard for Allen's luddite ways, even shared an Instagram story of Chalamet. Allen was not spotted on the street anyway, suggesting interior shoots only.
https://twitter.com/portalselenabr/status/908405930945126400
Friday was the first call for Elle Fanning, who had been spotted just hanging out on set earlier. She was spotted in New York, but we know at least part of the filming was done on West 19th Street, near the Flatiron Lounge, in an apartment. Fanning also had a Gotham Coffee Roasters cup, a cafe on West 19th.
Appearing with her was Liev Schreiber, our first look at him. Both Schreiber and Fanning appeared in multiple outfits, again suggesting several scenes were shot. Allen again was not seen, suggesting interior shooting again. Daily Mail again, had good pics.
We don't learn much, other than some relationships with the characters. Outfits don't suggest anything in particular. There is still a lot we don't know about the new film.
Shooting will continue in New York, and we will keep you up to date.