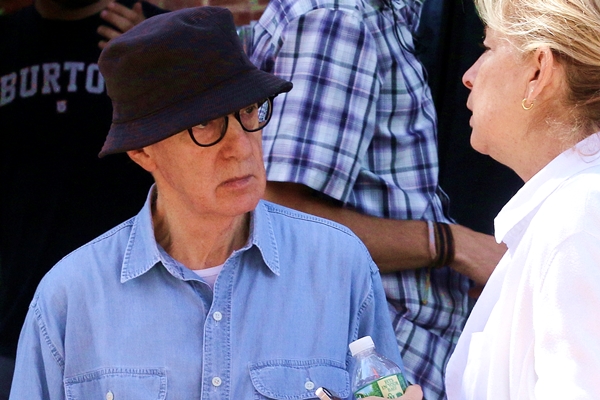 Production has begun on Woody Allen's 2017 film, and it's always nice to know that Woody Allen is filming in New York. One of the filming locations is Vinegar Hill in Brooklyn, and one of our readers managed to watch the filming and report back. Thanks to Paul Searing for the pictures and the report below.
Photos first. There was more sightings of Justin Timberlake and more vintage cars.
Paul wrote us a wonderful set report. It's a great insight into how these films work.
I got word in advance that Woody Allen was going to begin shooting his next film in Brooklyn on Thursday, September 15, so I decided to check out the scene. I arrived just before noon and it was very low key, unlike when, say, Law and Order shoots and there are 10 trailers lining the block, etc. The filming was set in a restaurant called Vinegar Hill House, which is tucked away on a small cobble stone street near the DUMBO area of Woody's home borough. The street was mostly residential and there was very little car or foot traffic.

I sat down on a stoop opposite of Vinegar Hill House to watch. I was expecting a production assistant or someone to come over and shoo me away but they left me alone. There were 2 cars from the 1950's on the street, and a bunch of extras in period clothing milling about. There were about 10 or so crew members outside on headsets and everyone else, Woody included, inside. In near unison, they would yell "Quiet", then "Rolling", and after several minutes, "Cut". This sequence repeated a few times, then the front door opened and some crew members and Justin Timberlake exited, but who cares? Where's the main man?

And then very casually, out strolled Woody by himself, straight to the curb. With hands in his pockets, he looked up the street one way, then the other, taking in a bit of the exceptionally beautiful September day. There he was; Virgil Starkwell, Fielding Mellish, Boris Grushenko, Alvy Singer, Sandy Bates, Leonard Zelig, Danny Rose, Cliff Stern, Harry Block, all of his characters, on and on, standing right there. I'm never star struck, but the no-big-deal nature of the moment was almost surreal.

After a short time was taken to rearrange the lights and camera, Woody and other crew went back inside. This time, when they said "rolling", extras were deployed to walk past the front of the restaurant in both directions. Finally, after that scene was captured, Woody emerged talking with a woman I didn't recognize. They stood at the curb for a few moments until a black Mercedes sedan pulled up, Woody got in, and the car drove away.

I have no idea how good or bad this movie will eventually be, of course, but as a long time fan it was incredible to get a small glimpse of his modest movie-making process, that's probably been carried out similarly for almost 50 years now. Long may you run, Woody.
Huge thanks to Paul. The photos show Vinegar Hill House and also Timberlake in a different outfit than we've seen. You can follow Paul on Instagram (@paulsearing) and Twitter (@nemegi)
Production continues next week around Brooklyn, Rockaway and Coney Island. Expect the film July 2017.