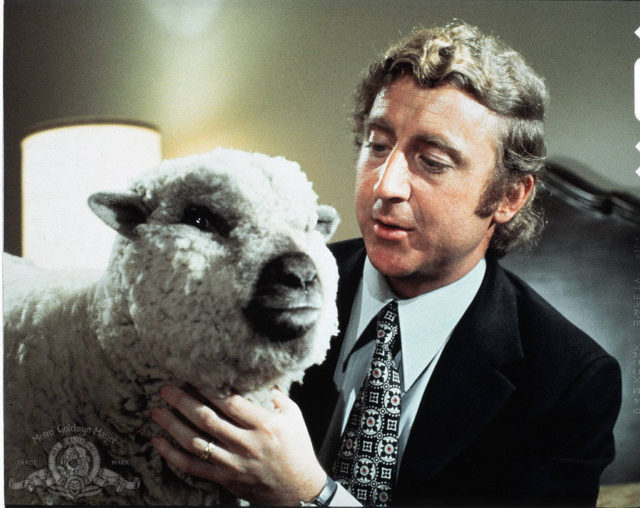 2016 has taken another legend from us. Comedy great Gene Wilder has passed away at age 83. Tributes are everywhere, including The New York Times and Variety.
Wilder appeared in one Woody Allen film, but let's face it, will be remembered for towering comic roles such as Willy Wonka & the Chocolate Factory, and partnerships with Mel Brooks and Richard Pryor. For us, it's those Brooks films – The Producers, Blazing Saddles and Young Frankenstein, that we love best, and want to watch right now.
Wilder appeared in a segment for Woody Allen's 1972 film Everything You Always Wanted To Know About Sex. It was a memorable sequence, called What Is Sodomy?, where Wilder's character Dr Ross falls in love with a sheep.
The film was a huge success, and brought both men to wider audiences. Hard to imagine now, but both The Producers and Willy Wonka were flops. This was Wilder's first mainstream hit. Also, the visual is so bizarre that it still makes the rounds on social media every so often, when a new person discovers it.
Wilder, it seems, wasn't terribly impressed by Allen. Wilder remarked:
It was like walking on a Bergman set: people talking in whispers, serious looks on Woody's face. He communicates through silence.
On his role, he told CNN:
That's not an easy task, being in bed with a sheep, especially if you make the sheep nervous. I'm not going to go on, if you know what I'm talking about.
An interview with Paul Leslie, he revealed that he made Allen laugh on set.
I was supposed to be falling in love with a sheep and so I think I added a few things when I was trying to be nice to that sheep I was in love with. And as soon as the scene was over, I saw him laughing – Woody – that's what he wanted.
In 2013, Wilder appeared for a rare interview at the 92nd Street Y. He raved about allen's more recent work.
Midnight in Paris — how can you do better?
Allen for his part, had nothing but praise for Wilder over the years, praising his comic abilities. He also praised Wilder in the role, playing it with straight eyed seriousness that manages to get a laugh, in a way Allen himself could not. He told Stig Bjorkman:
I think Gene Wilder is terrific. It's all his own timing. It's his natural feel. If I have someone like Gene Wilder and he's doing something funny, I'll get out of the way. He understood the character and the part and did it naturally. I had to do very little with him.
Here's an interview with Wilder where he talks about the original pitch from Allen.
We're going to go watch The Producers now. Do you have a favourite Wilder performance?