Music Of Woody Allen Films – an irregular feature about the musical compositions that have helped to make Allen's films sing.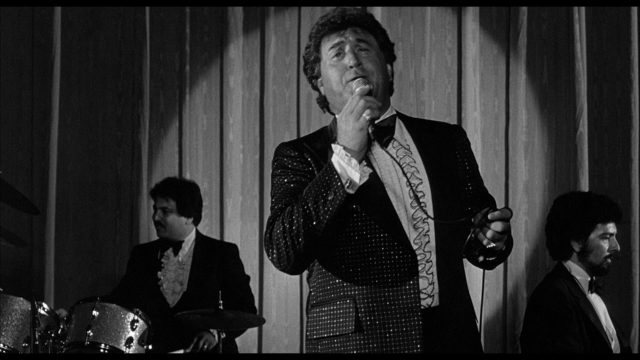 Over four decades of film making, there's been plenty of talented people who have passed through Allen's films who, for whatever reason, didn't fulfil their acting promise. There's probably no more dramatic example than Nick Apollo Forte, who starred in Broadway Danny Rose. He was pulled out of obscurity as an actor, and a song writer, and promptly disappeared.
Allen had real trouble casting the role of Lou Canova, and looked far and wide. Over the years, many names have talked about auditioning for the role. Danny Aiello, Robert Goulet, Robert DeNiro, Steve Rossi and Jerry Vale are just some of the names, with Allen and casting director Juliet Taylor saying they looked at many famous and not famous names.
The search was dragging on when Taylor came across Nick Apollo Forte on an album cover. She got in contact and shortlisted him. Even then, Allen only hired Apollo Forte after Diane Keaton showed her preference.
Apollo Forte was a lounge singer, working smaller rooms, but also a songwriter who performed his own material alongside the classics. He had been earning money singing in groups since he was 16, and had been singing ever since. According to Taylor, the casting was a dream come true for Apollo Forte. He was determined to make the most of his shot at fame. In life and in film, he was a force of nature, a big personality who was not shy to push his own songs to a world famous, award winning director.
Two of his songs made the finished film – the biggest being Agita. What is an Agita? It is Italian, and literally means an aggravation. But it has taken on a meaning in food, an uncomfortable feeling of eating too much, or the wrong thing. Throughout the song, there are many food references, as the singer gorges himself to agita.
Agita opens the film, and is the big closing number for Lou Canova as he makes his own big bid for fame in the film. The instrumental version is used throughout the film as a theme. And it just works as a big rousing, Italian closing number. It sounds like it could have been a novelty by a young singer, a one hit wonder.
And one hit wonder is where Apollo Forte ended up – or a one credit wonder (he's pretty close). He was offered other roles, but nothing came of it. A deeply moral man, he turned down a role in the Sopranos because the themes and the swearing. He returned to his true love – music – and still performs to this day, billing himself as '…from Broadway Danny Rose", and performing Agita.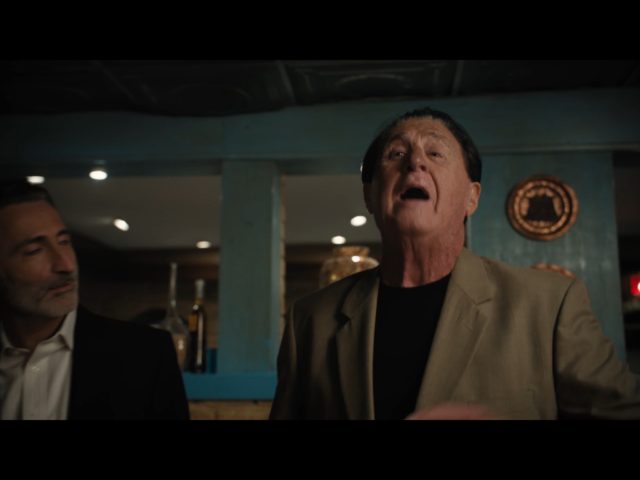 Then, randomly, in 2016, he appeared in an episode of Billions. The episode is called The Punch, and he is singing in an Italian restaurant. The song? Agita. After all these years he's still performing it with gusto.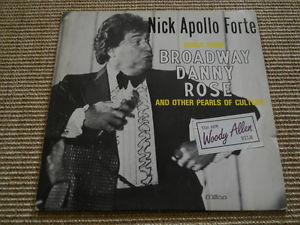 He released an album of songs from "…Danny Rose" as an album. It included his other original song in the film. The song was called My Bambina, but it's also known as Keep Italian In Your Heart.
Nick has a website, where he proudly has images of himself with Allen. Check it out.
Read the series on the Music Of Woody Allen Films.