Whenever Woody Allen goes back to the Jazz age, you can pretty much rely on a killer soundtrack. It seems Café Society is no exception, with music playing a huge role in the film. We now have track listing details and release dates.
You can get it at Amazon US, Amazon UK or iTunes.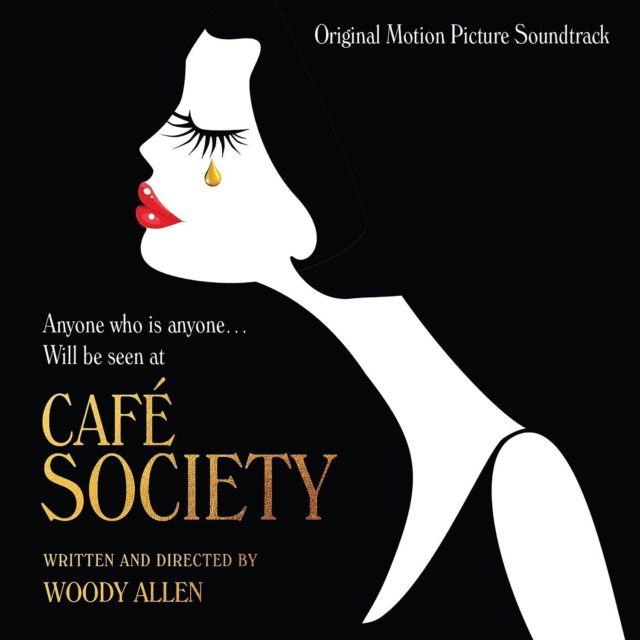 The track listing for the Café Society soundtrack:
1. Lady is a Tramp
2. Jeepers Creepers
3. Mountain Greenery
4. Have You Met Miss Jones
5. I Didn't Know What Time It Was (Benny Goodman & His Orchestra)
6. Taxi War Dance (Count Basie & His Orchestra)
7. Zing Went the Strings of My Heart
8. Manhattan
9. My Romance
10. Pick Yourself Up
11. I Only Have Eyes For You (Ben Selvin)
12. The Peanut Vendor – El Manisero (YeraSon)
13. There's a Small Hotel
14. Out of Nowhere (John Gill)
15. This Can't be Love (Conal Fowkes)
It's a mix of some very famous songs from the era, along with some more obscure ones. It also looks like a mix of existing recordings (such as Benny Goodman and Count Basie), to music recorded just the film (Conal Fowkes – Allen's regular piano player).
According to Fowkes, he actually recorded 5 tracks for the film, with only two making the soundtrack. It is the third time Fowkes has contributed to four of Allen's soundtracks since You Will Meet A Tall Dark Stranger.
The soundtrack will be released by Sony Masterworks on 8th July, a week before it hits limited release in the US.