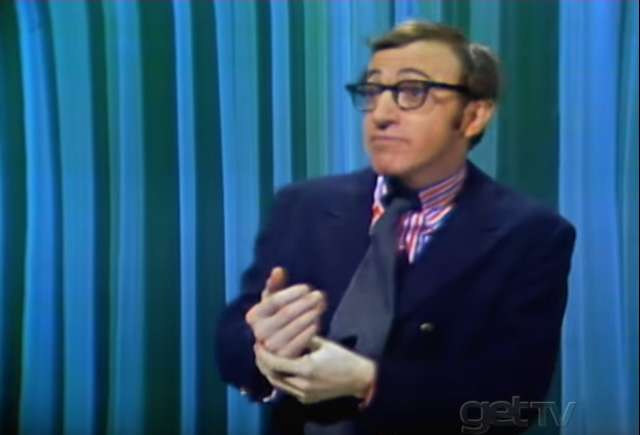 Before he was a film maker, before he won all those awards, Woody Allen was a comedian who was very much part of the TV variety circuit. In 1967 – two years before his first film – Allen had his own special. It's called Woody Allen Looks At 1967, and was sponsored by Kraft. It looks like the rights have been picked up, which means new clips from the show have hit the web.
The service that has picked up the rights is Get TV, a fairly new digital TV network in the US.
It's very much a variety show – monologues, sketches, live music and other bits. Allen's sidekick on the night, in sketches and singing some songs is Liza Minelli. The other musical guest was Aretha Franklin who sang her mega hits Respect and Chain of Fools.
Here's Allen with Liza Minelli
Allen with William F Buckley, a conservative pundit.
And there's a promo they cut for the special
This show has always been tough to find. It's on show at the Paley Center For Media in New York and that's about it. With so much demand for TV in the age of streaming, it's great to see stuff like this get more life. It also means that this is the first ever clips from this show to legally hit the internet.
The premiere on Get TV has already happened. We're not in the US, so we don't know if there's a way to watch it on demand, although they have several repeats on last this week.
Splitsider has more info about the show.