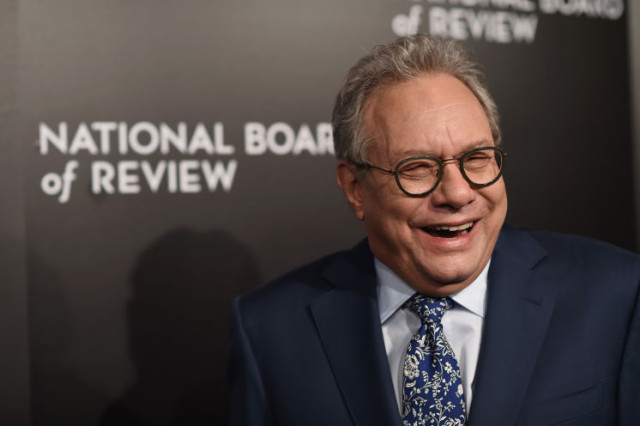 We love Lewis Black. He's been around for many decades, but recently found a new audience after playing Anger in Inside Out. He's more of a comic than an actor, but he's taken another acting role this year – in Woody Allen's upcoming 2016 Amazon Series. In a new interview with Tampa Bay Times, he discussed his role a little. He also reflected on his first time working with Allen, in 1986's Hannah And Her Sisters, thirty years earlier.
You'll be on Woody Allen's new Amazon series as well. What can you say about that at this point?

I can't say anything because he doesn't send you the whole script. I guess I can say the people that I run into who are in it are some of New York's best actors. My scene is with Becky Ann Baker as my wife — she's the mother in Girls; she's Lena Dunham's mother. I've known Becky forever. I keep on hearing names of people who are in it and they're all people that I deeply respect. So I don't know how I got into it.
Not sure if Black is talking about actors we don't know about, but there was a bunch of cast members announced recently. We do now know a little more about his and Becky Ann Baker's characters.
That brings you full-circle because your first on-screen role was Hannah and Her Sisters, right? What was that like?

Yes, it was. It was great. I did an audition with him a while back in which he asked to see me and I'd have to fly back. I went, "Oh God, all right." He's like the only person I'd fly back for. He said, "I needed to see you because I'm casting this movie and you're right for this, so don't worry about your reading at all. I just need to take a look, I need to see if you're too young to be the husband of the woman I've already cast." I thought, "This is the greatest audition I've ever had because I'm either going to get it because I'm talented or if I don't get it, it's because I was too young."
Not sure what film he could be referring to – perhaps it was the Danny Aiello role in The Purple Rose Of Cairo?
The Amazon series is in production right now, and is back shooting in New York this week.