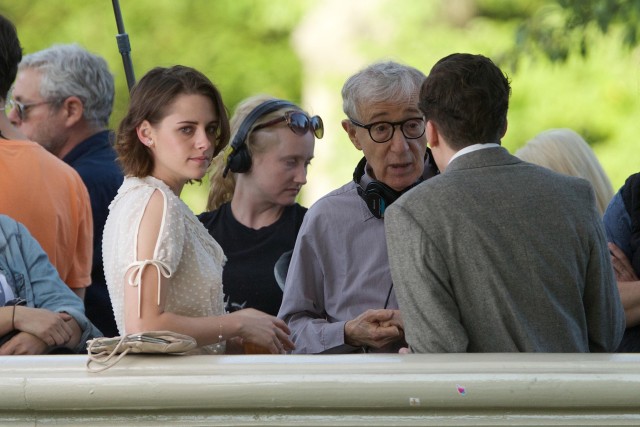 Vittorio Storaro is the award winning cinematographer who has shot Woody Allen's upcoming 2016 film which stars Jesse Eisenberg and Kristen Stewart. He has also pulled off a minor miracle – convincing the notoriously technology shy Allen to use digital cameras for the first time. The results remain to be seen, but Storaro made some recent comments about how it was to work with Allen and modern technology.
Storaro's comments come from the Camerimage Festival in Poland, and captured by the Hollywood Reporter.
We can still use film [Allen told me]. I said, 'Woody, time is now telling us that technology is changing. We cannot run behind something that is going to disappear. Let's start when we have the chance to see in front of us the best — almost final quality — from the beginning.'
Despite Allen's reservations, he has apparently taken to it.
Woody [said] I am watching the actors…on the first day he did not pay any attention [to the Digital images]. On the second he was on the monitor and never left it; he did not look at the rushes after that; you see what you are thinking as you do it right away in that moment.
Interesting tidbit – they also report the film is set in the 1930s and 1940s, supporting the idea the new film is an epic that spans years.
This is Storaro's first film with Allen. It will be interesting to see if Allen continues down this road or if it is a one off (like having Phillip Glass score Cassandra's Dream). It could significantly bring down Allen's costs.
Not much about the film's plot, but hopefully there will be some more information before the year is out. We will be tracking the film as it heads into post production as it happens.