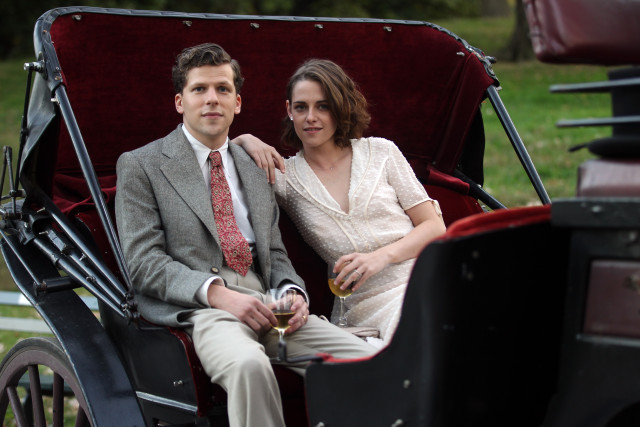 Production on Woody Allen's 2016 film continues. At almost two months, this will be one of the longest production periods ever for Allen, in his decades long career. Today we have stars Jesse Eisenberg and Kristen Stewart filming very publicly in Central Park.
Eisenberg and Stewart were spotted in Central Park sharing a kiss, drinking some wine and taking a carriage ride. Many scenes took place on the East Lake bridge. Allen has used Central Park in several of his films, in classic films like Annie Hall and Manhattan to Melinda And Melinda. This new film will no doubt draw comparisons to those classics when it comes out. Vintage cars were also spotted.
There are literally hundreds more photos. You can check them out at this Kristen Stewart fansite.
No other stars were spotted but earlier in the week, Anna Camp posted an image of herself with vintage style hair, but was not spotted on set.
https://twitter.com/TheRealAnnaCamp/status/656462645307035648
Finally, another location was used. The crew turned 347 West 44th Street, New York into a 1920s dentist's office. Interesting choice as dentists were mad at Woody Allen because of Blue Jasmine.
Woody Allen's new movie starring Kristen Stewart & Blake Lively is filming on West 44th St in NYC today pic.twitter.com/GQYdxfZBz7

— On Location Tours (@onlocationtours) October 21, 2015
No word on when filming wraps, but it should be soon. Meanwhile we will continue to cover the 2016 film's production – if it ever wraps!