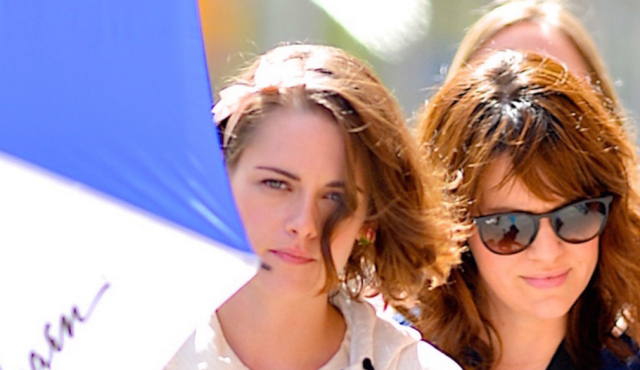 Filming continued today in New York on the 2016 Film written and directed by Woody Allen. The crew blocked off roads in Greenwich Village, where stars Kristen Stewart and Steve Carell were spotted.
The location was Bowery and W 4th Street, in the Greenwich Village part of Manhattan. The large street dressing of the last few days were not present, suggesting they are using the interiors of a nearby building. It just takes a lot of trucks to make a film.
Stewart was by far the most visible star. She was spotted in two outfits.
Stewart also signed some autographs for fans.
RT @radkristen FRUCKFURICUFRUCK pic.twitter.com/m8VcIPsGIc

— Elle_2x (@Elle_2x) September 21, 2015
Steve Carell was the only other star spotted. Again, no sign of the rest of the cast.
Also Steve Carrell. Didn't see Jesse tho. Perhaps just a scene of Steve and Kristen pic.twitter.com/kerm1Kqc5j

— bad gyal (@queennn94) September 21, 2015
Filming continues until October. Right now we are dying to see the rest of the cast.
Find all our 2016 film coverage.