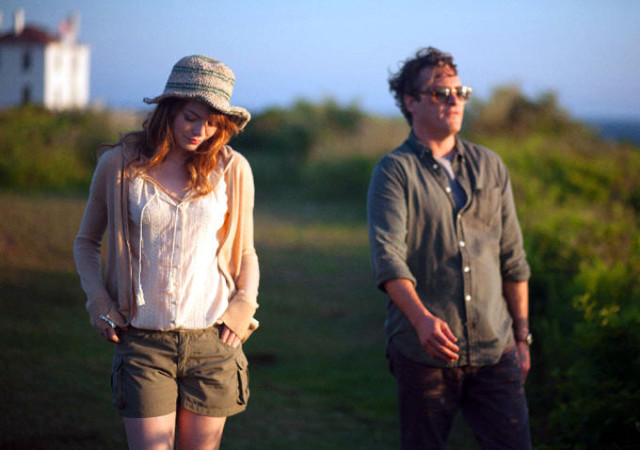 We are 12 days away from the premiere of Irrational Man, the new film written and directed by Woody Allen. With the release date so close, we are wrapping up various news bits from around the web.
First up, there are reports that the LA premiere of 'Irrational Man' will happen on 9th July. We are expecting Parker Posey and Emma Stone to put in an appearance. No word of Joaquin Phoenix or Allen himself. A New York premiere is bound to follow.
The UK trailer for the film was released this week – identical to the US one. But with it came another batch of new photos. We also got a heap more photos from the US. So here they are in one big pile.
Lots of cool stuff in the images, including our first good look at various supporting characters and plenty of scenes we have not seen before – including Tom Kemp, Sophie von Haselberg and Ethan Phillips. There's also new shots of Allen on set. 41 images in all…it's like watching the whole film!
Another new image is our first international variant poster. This one is from Poland.
So far the reviews have been pretty good (7.7 on IMDB). Various screenings have happened and many positve tweets.
Irrational Man. Fun dark comedy with strong performances by Jamie Blackley, Joaquin Phoenix, Parker Posey, Emma Stone #darkclouds #begone

— Clinton Stark (@clintonstark) July 1, 2015
Really enjoyed IRRATIONAL MAN. I've also become fond of Woody's increasingly archaic dialogue.

— devin faraci (@devincf) July 2, 2015
Enjoyed performances of Emma Stone and Joaquin Phoenix in Woody Allen's "Irrational Man" tonight.

— Oliver Tolentino (@OliverTolentino) July 2, 2015
Can't wait to see it ourselves! 'Irrational Man' opens 17th July in New York and Los Angeles.