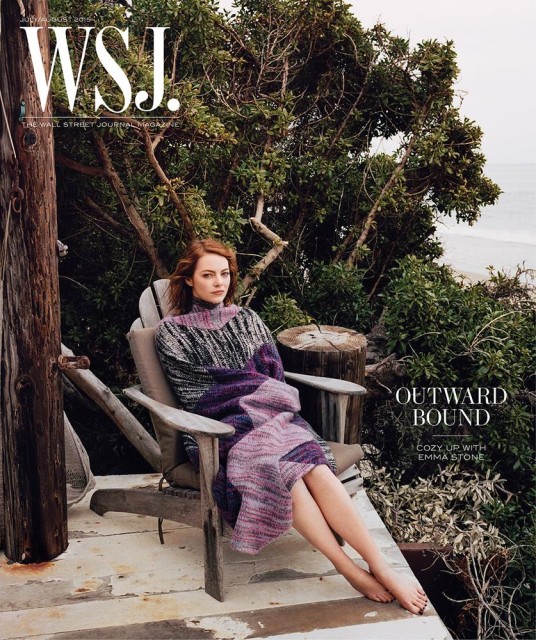 The Wall Street Journal Magazine has run a long, fascinating feature on Emma Stone. The wide ranging interview was held just before she headed to Cannes to be part of the premiere for Irrational Man, the upcoming film written and directed by Woody Allen. There is a lot of great stuff in the story, and it is well worth a read. And of course, she talked about Woody Allen.
Stone has been a fan of Allen's since she saw Annie Hall when she was 14. She used to go to the Café Carlyle in Manhattan to watch him play clarinet; she even had a dog named Alvy, after Allen's character in Annie Hall, Alvy Singer. She first met the director when he requested a meeting about his last movie, 2014's Magic in the Moonlight. Allen says he'd seen her in "one of those young people's movies" while exercising on his treadmill and thought, "My God, this girl is remarkable." The meeting lasted four minutes. "I don't even think I took off my coat," Stone says. When she showed up on set, she says, she was "absolutely convinced I was going to be fired."
On working with Allen:
"It's terrifying," she adds. "He doesn't do table reads or any rehearsal. You can't even ask questions about your character, because he'll be like: 'You know this is a movie, right?' " Says Allen: "I never talk to any of the actors in any of my movies about anything if I can avoid it."
And Allen chimed in on Emma Stone.
Irrational Man, their second film together, is a story about, as Stone's co-star Joaquin Phoenix says in a voice-over at the beginning of the film, "morality, choice, the aesthetics of life, randomness and murder." Stone plays Jill, an enthusiastic college student who embarks on an ill-fated and possibly dangerous affair with Phoenix's character, an alcoholic philosophy professor. When Allen first began writing the film, he wasn't thinking of Stone. "But once I was 10 pages in, I thought, Oh God, who else would play this so perfectly? A beautiful young college student, an intellectual philosophy major? Emma could phone this in and be great."
Not many more revelations about the upcoming film, but there's plenty of great stuff about Stone, who is a fascinating actress. Read more at WSJ.
'Irrational Man' is released in New York and Los Angeles on 17th July, and will roll out to other cities and countries in the weeks to follow.