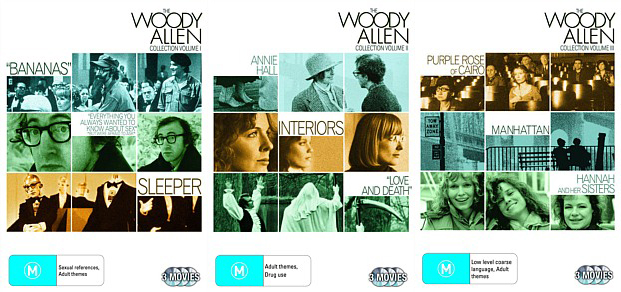 Three new DVD Box Sets will be released on 25th July in Australia. These great value collections contains some of the very best works by Woody Allen – the films on which his reputation lies.
Woody Allen Collection – Volume 1
Collects Bananas, Everything You Always Wanted To Know About Sex* (*But Were Afraid To Ask) and Sleeper. Three of his best early, surreal comedies. They are, by our counts, films 2, 3 and 4 in the Allen filmography – and by far the funniest collection of the lot.
Woody Allen Collection – Volume 2
Collects Annie Hall, Interiors and Love And Death. Both Annie Hall and Love And Death are widely considered to be amongst Allen's best films. Interiors, Allen's first truly serios drama, divided critics back in the day but it was an important step towards Allen's later dramas such as Husbands And Wives. Out of order, these are Allen films 6, 7 and 5.
Woody Allen Collection – Volume 3
Collects The Purple Rose Of Cairo, Manhattan and Hannah And Her Sisters. If we had to pick one, we would pick this one. This collection makes little sense except it is three of Allen's greatest films. All manners of the heart are explored in these great films. There's no better place to start. These are films 13, 8 and 14.
As a set, they can hardly be faulted. They are also selling for less that $25AU, such as on ezydvd.