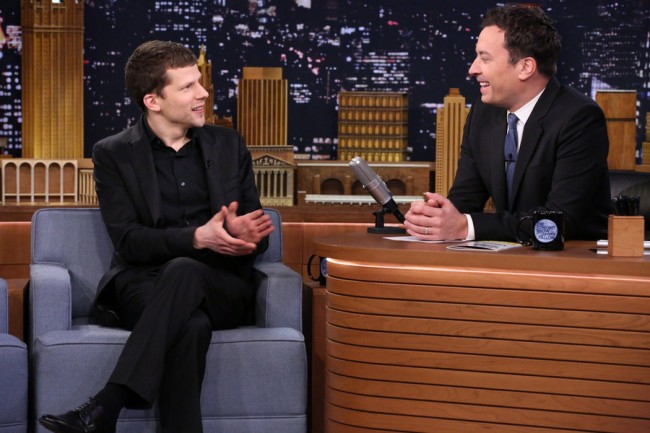 Jesse Eisenberg recently appeared on The Tonight Show with Jimmy Fallon, talking about his new play 'The Spoils'. During the interview, Eisenberg and Fallon briefly discussed working with Woody Allen in our video of the week.
Eisenberg starred in To Rome With Love, and is set to join Allen again in a new, 2016 film. Fallon appeared in Anything Else, and sort of steam rolls his own anecdote instead of getting anything out of Eisenberg.
Eisenberg once again echoes how Allen is his favourite. Allen has mentioned that he probably would have played Eisenberg's part in 'To Rome With Love' had he been younger. And he definitely has a Woody Allen-ness about him.
The 2016 film is due to start filming in August, starting in Los Angeles and then heading to New York. It will star Eisenberg alongside Kristen Stewart and Bruce Willis. There's bound to be more information before then.