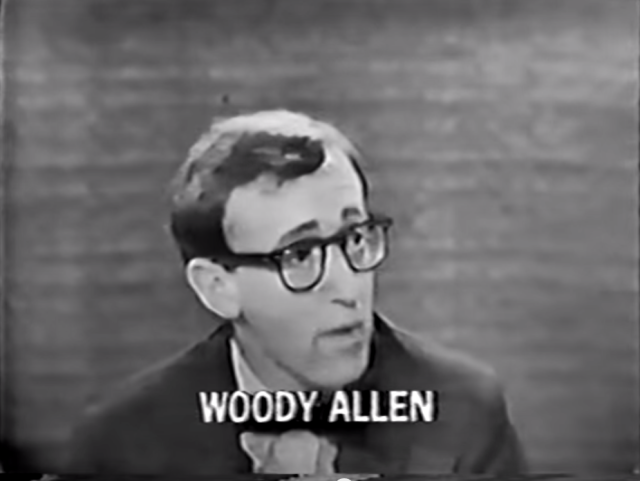 Before he found acclaim as a filmmaker, Woody Allen was a comedian. Part of the job was to be a TV personality, and in the 60s Allen made numerous appearances on the box. One of the shows where he appeared several times was 'What's My Line?', a panel show. These past few weeks, an official 'What's My Line?' YouTube has emerged, and several episodes featuring Allen are now available online.
So our videos of the week – eight full episodes of 'What's My Line?' – every episode that features Woody Allen.
7 July 1963 (with Peter, Paul & Mary)
5 January 1964
1 March 1964
26 September 1965
3 April 1966 (This episode actually featured Allen as the mystery guest)
18 September 1966
8 January 1967 (with Jane Fonda)
26 February 1967
Allen would go on to parody 'What's My Line?' with 'What's My Perversion?', a segment in the film Everything You Always Wanted To Know About Sex* (*But Were Afraid To Ask). Pamela Mason, who appeared in the April 1966 episode, is a panelist in the film. It was almost as if Allen was saying goodbye to his game show past.
Here's that scene.
Allen is so quick witted and funny here, it is a shame that he doesn't do the TV talk show circuit now. On the other hand, he is so light hearted, it is hard to imagine he would one day make, say, Match Point.
Of course, Allen is returning to TV next year, with a new series for Amazon.