The Bullets Over Broadway musical has opened for just under a month, and it's been a pretty great month. Apart form all the award nominations, here's a collection of 'Bullets Over Broadway' bits.
Box Office update (as reported by Broadway World). The total gross of for 'Bullets…' so far is $5,833,671. It's last two weeks have broken the $900k a week mark for the first time, and good sign that the show is growing.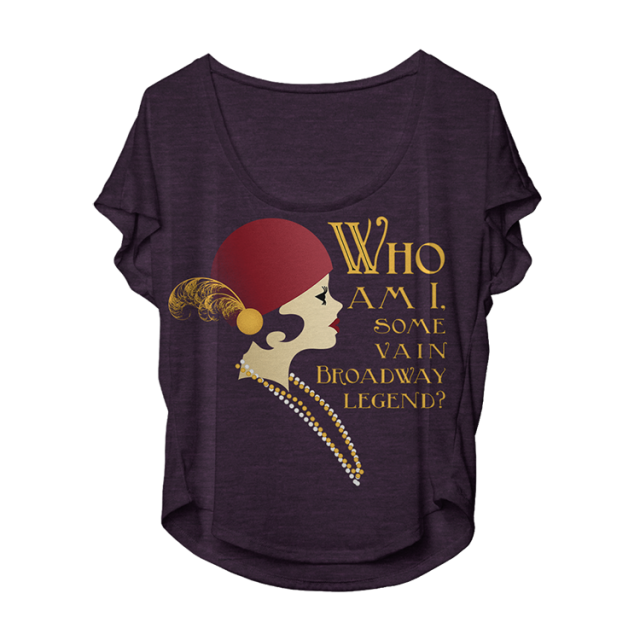 The 'Bullets…' store is now online! Grab some merch without going all the way to New York City over at http://www.bulletsoverbroadwaystore.com/. There's lots of cool stuff, including t-shirts, hip flasks, hoodies and more.
Jennifer Tilly, the original Olive from the 1994 film version, stopped by to catch the show. Here she is with Marin Mazzie, Karen Ziemba and some of the Bullets Babes.
Jennifer Tilly and @BulletsBabes tonight after the show!!! @BulletsOverBway #originalolive pic.twitter.com/9K6oAXQRCz

— Bullets Babes (@BulletsBabes) April 30, 2014
Bullets Babes? Who are they? Well, they are the female ensemble from the show, who make up the Atta-Girls and more. They have their own Twitter account @BulletsBabes, which you can follow. Spoiler alert – their life looks way more fun than yours.
Meet the Babes! #4 Shopper Babe Bryn! @BulletsOverBway pic.twitter.com/6jRq7VDRhr

— Bullets Babes (@BulletsBabes) May 3, 2014
There's a cool new TV ad.
And speaking of ads, a big two page spread from the New York Times.
The St James Theatre where 'Bullets' is playing has a new front of house.
https://twitter.com/BulletsOverBway/status/462652959210631168
And there's a bunch of new videos on their YouTube channel.
Betsy Wolfe Discusses Working With the Cast
Zach Braff Tells All About Debuting On Broadway
Vincent Pastore Talks Dancing And Singing
Marin Mazzie On Bringing A Show Together
Brooks Ashmanskas Talks Susan Stroman, Music and Singing!
Helene Yorke Discusses Working on 'Bullets…'
Nick Cordero Gives You A Hint at What You Will Expect When You See the Show!