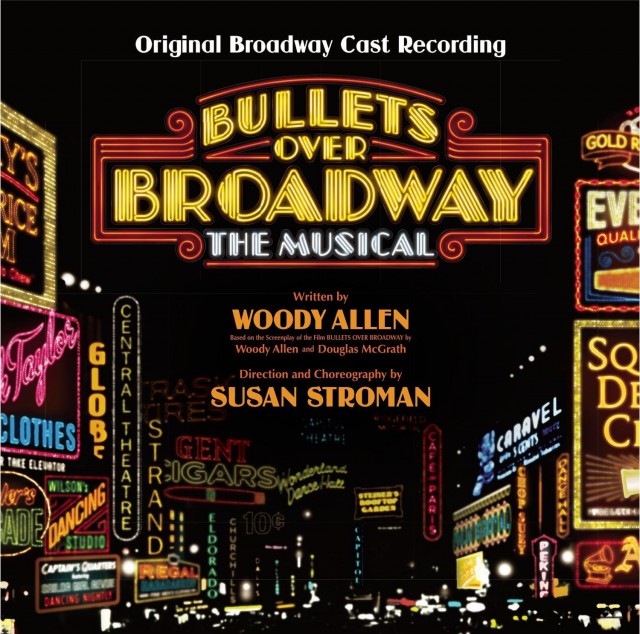 The Bullets Over Broadway musical is going strong in theatres, but those unable to get to NYC can finally hear the songs. The Original Cast Recording is released digitally next week (and on CD 10 June). Entertainment Weekly has scooped the first listen, with the tracks streaming on their site – click through if the flash players below don't work.
Here's every track. Oddly, there's one we haven't seen before – 'Here Comes the Hot Tamale Man'. One is now gone – 'Good Old New York'.
1. Overture
2. Tiger Rag
3. Gee Baby, Ain't I Good To You
4. Blues (My Naughty Baby Gave To Me)
5. 'Tain't a Fit Night Out for Man or Beast
6. The Hot Dog Song
7. They Go Wild, Simply Wild, Over Me
8. Up a Lazy River
9. I'm Sitting on Top of the World
10. Let's Misbehave
11. There's a Broken Heart for Every Light on Broadway
12. (I'll Be Glad When You're Dead) You Rascal You
13. Here Comes The Hot Tamale Man
14. 'Taint Nobody's Biz-ness If I Do
15. Runnin' Wild
16. There's a New Day Comin'
17. There'll Be Some Changes Made
18. I Ain't Gonna Play No Second Fiddle
19. I've Found a New Baby
20. The Panic is On
21. She's Funny That Way
22. Finale (Yes, We Have No Bananas)
This stream comes days before the album is released digitally. Australian fans get it ahead of the rest of the world on 30 May, and worldwide by 3 June. The CD will be released 10 June on Amazon US and Amazon UK.