The Bullets Over Broadway Musical continues to hum with activity. This week we have new interviews with the cast and crew, and more celebrities dropping by.
But first – 'Bullets…' are encouraging you Join The Mob! You can win great prizes if you attend the show by tagging or hashtagging. Go to the Join The Mob page to find out more.
NewYork.com also ran an article on things to do after the show.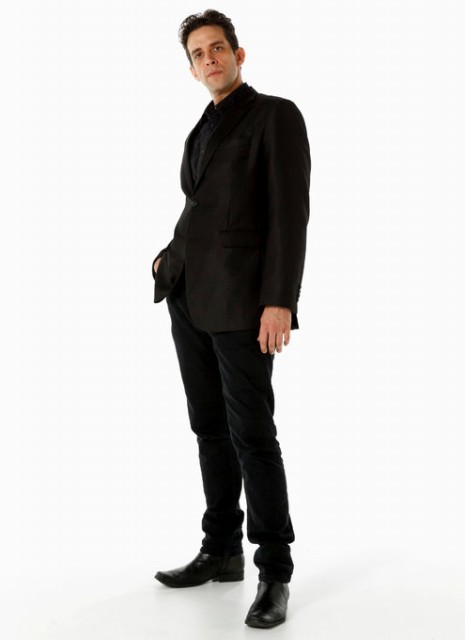 Nick Cordero is turning out to be the break out star of 'Bullets Over Broadway'. On the back of his Tony Award nomination, he's been doing some new interviews.
He was profiled in the New York Times.
On playing Cheech
I think he's an artist who doesn't really know that he's an artist. He's a heavy. He's a soldier. But when he has an opportunity to distinguish himself as an artist, he goes there. He speaks a lot about writing. To him, it's just simple. It's just life.
On the tap dancing
It was definitely intimidating. But I've always danced. My father's Latino, so when I was a kid, we'd all get in the caravan and go to these Latin dances, and I'd dance with these older girls. I thought I was super cool.
In Playbill, he answered a 'cue & a' about things he loves. Amongst the questions he answered, he shared his favourite films are: 'A Streetcar Named Desire', 'Glengarry Glen Ross', 'Chinatown', 'Missouri Breaks', 'The Usual Suspects', 'Heat', and the original Tim Burton directed 'Batman'.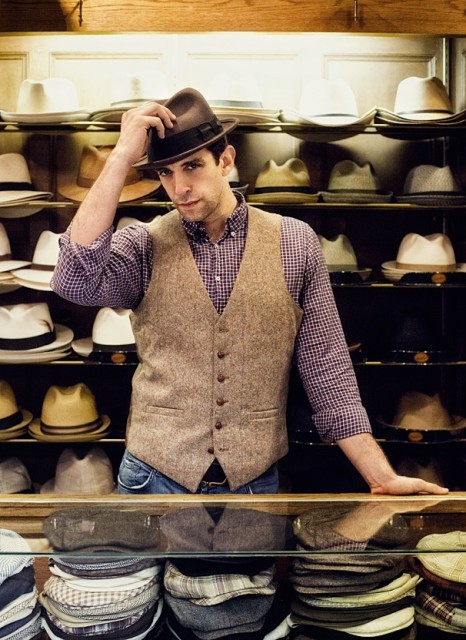 He also answered some questions for Broadway.com
Woody Allen is the master of the punch line, but he doesn't like to hit it right on the head. He told me, 'Say the line like you'd say anything. If it's funny, great. If not, it's my fault, not yours.
The Lincoln Center held a very special screening of the 1994 film version of Bullets Over Broadway, followed by a panel discussion on the musical. Director Susan Stroman attended as well as producers Letty Aronson and Julian Schlossberg. Wall Street Journal was there and wrote about the night. The article confirms what we know, that Allen kept bringing in joke after joke.
During previews of "Bullets," Allen would bring in a new joke every day, Stroman said. "It was like a gift."
Read more at WSJ.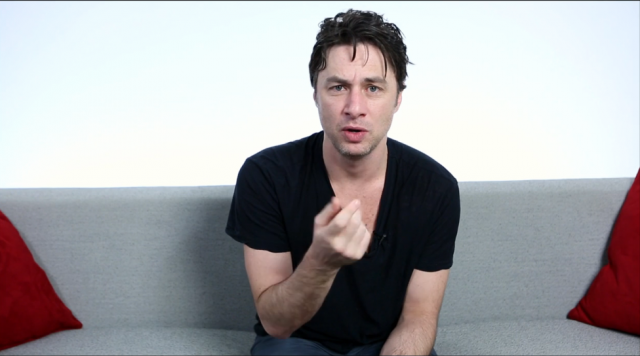 Zach Braff took questions from the public at Broadway.com, in video form. Amongst the highlights is him talking about Woody Allen, and even doing a Woody Allen impression from Annie Hall.
Braff and Marin Mazzie dropped by WNYC to talk about 'Bullets…'. Amazingly, they play some music from the show, so you can hear performances from the show by both Braff and Mazzie. They also talk a little about the history of the songs, and play some original versions. It's best interview on the show's music we've come across so far. You can listen to the whole 19 minute interview below (or at the WNYC site).
Here's Braff on playing the lead in a Woody Allen musical.
As a kid who loved musicals and would buy all these albums it's quite a surreal thing. I'm a kid in a candy story. If you asked my father what are your two favorite art forms, he would say Woody Allen moves and musical comedy. Both of these things were religious in my household. For me, I'm sitting there going, I would be a production assistant on this project — I can't believe I'm playing the lead.
Braff, for what it's worth, also tweeted his dressing room.
More famous people have dropped by the catch a show. This week it's Chris Martin of Coldplay…
One of my favorite humans, Chris Martin, post-show @BulletsOverBway with our beautiful cast @BulletsBabes @coldplay pic.twitter.com/PpfOw0dsph

— Zach Braff (@zachbraff) May 5, 2014
…Liza Minelli…
https://twitter.com/bulletsoverbway/status/464165806612676608
…and Larry King
Had a great time last night at Bullets Over Broadway. Great songs. There's only one Woody Allen.

— Larry King (@kingsthings) May 8, 2014
We will keep you up to date with all the Bullets Over Broadway bits next week!