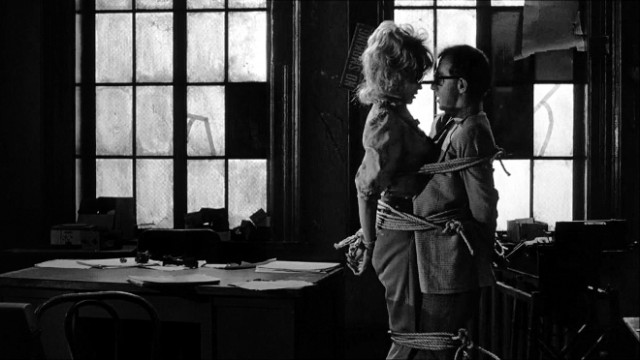 There's been so much news in May so far, we've neglected to cover off the reviews for the Blu-Ray release of Broadway Danny Rose. The new edition of Allen's 1984 film was released on Blu-Ray for the first time by DVD label Twilight Time.
You can buy the Blu-Ray at Screen Archives.
The reviews all loved the film, and they all seem to agree that the Blu-Ray version looks and sounds great.
Hi Def Digest loved the video, and the audio is the best it's been
Twilight Time's Blu-ray presentation features strong video and audio transfers that highlight the movie's understated artistry, but only the slimmest of supplements. If you haven't yet seen this Allen gem, you're in for a treat; and if you have, you'll enjoy rediscovering it in the splendor of high definition. Highly recommended.
DVD Talk has two reviews.
The Twilight Time Blu-ray of 'Broadway Danny Rose' is a picture-perfect transfer. Gordon Willis continued shooting Allen's B&W films after the critical success of 1979's Manhattan. The soundtrack is dominated by the ethnic songs of Nick Apollo Forte, who actually wrote the Italian novelty tune Agita and is heard singing it at least four times in the course of the movie.
For fans of Woody Allen's films, 'Broadway Danny Rose' seems to work on a checklist of all the great elements found within his movies and it pulls these elements all together into one amazing experience of cinematic wonder. This film stands as one of Allen's great accomplishments and as one of the best film's of the 80's.

The Blu-ray PQ is stunning (with a massive bit-rate that helps allows for a film-like presentation) and the AQ is quite good. Fans of 'Broadway Danny Rose' will be delighted having such a high quality copy of the film (the best kind: the kind the feels reminiscent of owning an actual film print). Twilight Time does not disappoint with this stellar Blu-ray release.
DVDizzy said this
You needn't be a Woody Allen aficionado or completist to see and enjoy 'Broadway Danny Rose', a slight but charming black and white comedy that the writer-director could have made at any point in his career. That he made it in the mid-'80s means that it's he and former partner Mia Farrow effectively bringing his words and characters to life.
Twilight Time's Blu-ray meets one's expectations. The film is treated to high quality picture and sound, but little else beyond that. It's the kind of disc you wouldn't hesitate to pick up for $5, but one you may not feel compelled to own at the over $30 with shipping this will set you back as a Screen Archives-exclusive. As always with this business model, though, if you don't act quickly, you may end up having to wait long or pay even more in second-hand markets to get this in the highest definition available.
Twilight Time has done film fans a service simply by upgrading the film to high definition. The picture is gorgeous, emphasizing the richness of Gordon Willis' cinematography with its deep blacks and whites. This isn't a complete clean-up, but the evident grain is never distracting and in fact enhances the beauty of the image, in my opinion. The sound is satisfactory as well. Allen's films are dialogue-heavy, so that takes precedence in the mix, but all in all I didn't notice any significant issues. As for special features, all that's included is two trailers for the film, which are fine if unremarkable.
The next Woody Allen Blu-Ray release from Twilight Time will be Radio Days in June.