We wrap up all the Bullets Over Broadway musical goings on for ya!
Vincent Pastore is the latest member of the cast to do interviews. He's been talking about his background in musicals and, of course, Woody Allen.
NJ.com has the interview.
The music was also familiar, including his song "Gee Baby, Ain't I Good To You."

"Coming from a music background — which a lot of people don't know I'm from — I knew most of these songs," he says. "So, it's really fun to be part of a show like this."
He also reveals he worked with Allen before, as an extra.
Adding to the challenge is that even when Nick is screaming on the phone, he needs to be funny. It's Woody Allen's signature style in creating such characters and story lines that made Pastore want to sign on for the show — that, and his history with the director.

"During my audition, I said, 'I used to do extra work for you.' "

Allen remembered.

"Well, I don't do extra work no more," Pastore said.

"You know, it's like I came full circle," he continues. "There's only two guys in New York that you want to work with at that level and that's Marty Scorsese and Woody Allen."
What films we wonder?
More at NJ.com, including a juicy tidbit that they are already looking at taking the show to London's West End.
Legend and original Helen Sinclair Dianne Wiest paid us a visit. HEAVEN. @BulletsOverBway pic.twitter.com/l9xaSY5Zi8

— Heléne Yorke (@HeleneYorke) April 5, 2014
The production is currently in previews and one very special guest stopped by for a show. Dianne Wiest won an Academy Award for her role in
Photos above with Betsy Wolfe, Helene Yorke and Nick Cordero.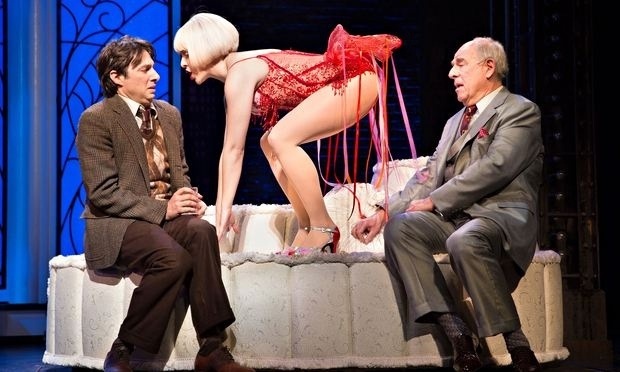 The Guardian's Peter Bradshaw has wrote a new piece about 'Bullets Over Broadway', although he focuses more about the making of the film in 1994.
The best thing about the article is we see another new photo, featuring Yorke, Zach Braff and Lenny Wolpe.
'Bullets Over Broadway opens on 10th April! Which is very soon!