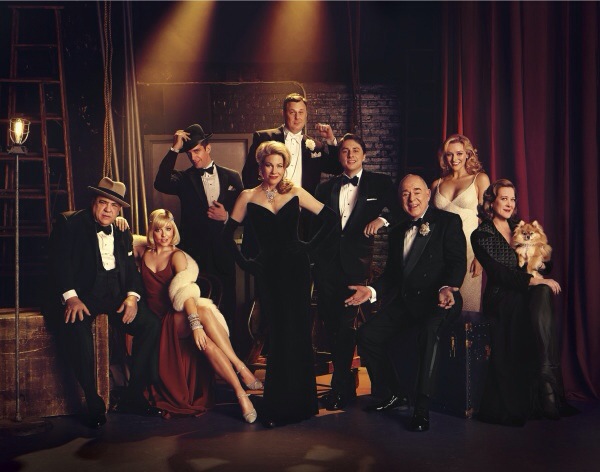 We are halfway through the first week of previews for the Bullets Over Broadway Musical, based on the 1994 Woody Allen film. Proper reviews won't happen until the show officially opens on 10th April 2014. Until then we have a couple of first reaction pieces, as well as the list of songs.
Here's that song list, taken from the Playbill (thanks to Harry Weiner).
Tiger Rag
Gee Baby, Ain't I Good to You
Blues My Naughty Baby Gives to Me*
'Tain't a Fit Night Out for Man or Beast
I Want a Hot Dog for My Roll
They Go Wild, Simply Wild, Over Me*
Up a Lazy River
I'm Sitting on Top of the World
Let's Misbehave
There's a Broken Heart for Every Light on Broadway*
(I'll Be Glad When You're Dead) You Rascal You
'Taint Nobody's Biz-ness If I Do*
Runnin' Wild*
There's a New Day Comin'
There'll Be Some Changes Made*
I Ain't Gonna Play No Second Fiddle
Good Old New York
I've Found a New Baby
The Panic is On
She's Funny That Way
Yes, We Have No Bananas*
* denotes songs where additional lyrics have been used.
We will have a more in depth look at the songs very soon.
In the mean time, there's a couple of reactions to the previews so far. Michael Riedel of the New York Post has plenty of great insights. For example, Allen has been at every preview so far. Riedel compares him to another collaborator of Susan Stroman's… Mel Brooks.
He is, in the theater, the opposite of Brooks. During previews for "The Producers," Brooks stood in the aisle during intermission, soaking up the praise and personally greeting everybody in the house.

Allen slips into his seat when the lights go down, and races up the aisle before they come up.
Also a revelation is that Allen has rewritten new scenes and jokes for the musical.
Don't look for all your favorite bits and gags from the movie. Woody Allen has come up with plenty of fresh scenes and jokes for the musical.
Plenty more over at New York Post, including which actors are getting Tonys heat and key music performances.
The Observer has also written about the previews, focussing on the cast and their characters.
In the end, the reactions so far have been overwhelmingly positive. Proper reviews to follow but in the mean time, if you see a show, we would love to hear from you! There's another month of previews to go.