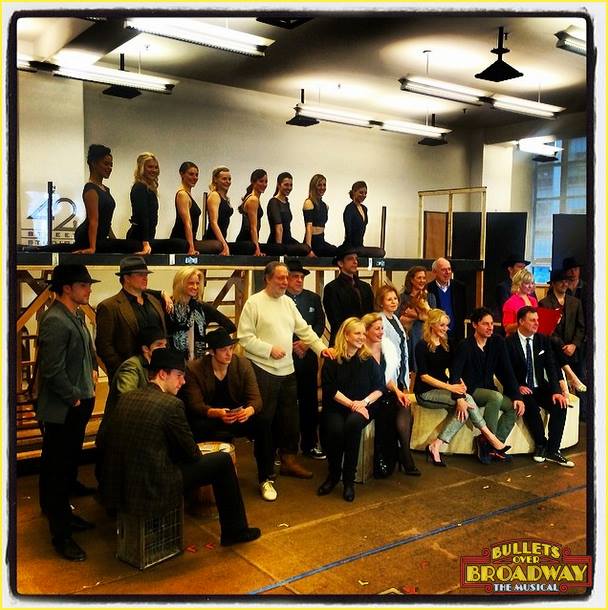 The Bullets Over Broadway Musical has held a very special press event in the middle of a New York snow storm. Allowing TV cameras into a rehearsal, the cast spoke to reporters as well as running through the show.
The full cast was there with a big photo shoot. The cast is Brooks Ashmanskas, Zach Braff, Nick Cordero, Marin Mazzie, Vincent Pastore, Betsy Wolfe, Lenny Wolpe, Helene Yorke and Karen Ziemba. Director Susan Stroman was also present, along with the large ensemble cast.
Broadway World has already posted some video. We get our first glimpse of music.
– Brooks Ashmanskas and Helene Yorke performing Let's Misbehave.
– Nick Cordero sings T'aint Nobody's Business If I Do.
– Betsy Wolfe and Zach Braff sing I've Found A New Baby.
– Runnin' Wild was performed but not in the video, although we assume it's Marin Mazzie, as she can be seen singing a number in the rehearsal spot below.
We like how Stroman says "Hello Broadway". It's its own world.
Theatermania has even more photos.
Hopefully more videos and details will emerge from this event. We are less than a month away from previews which opens 11th March 2014 at the St James Theatre. Tickets at the official site.