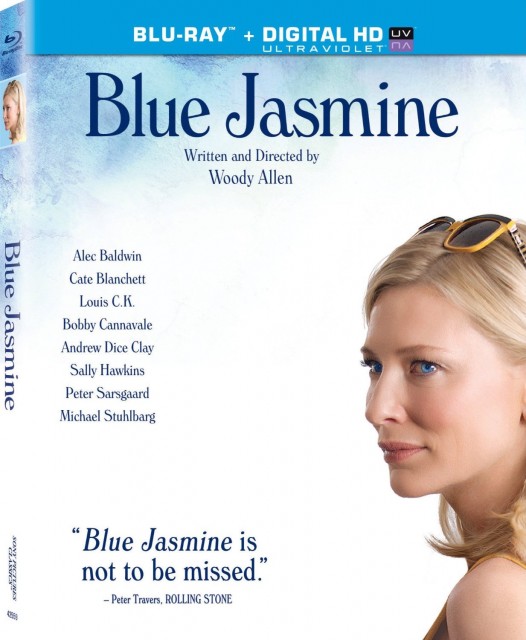 Hot on the heels of several awards for Cate Blanchett, Blue Jasmine – Woody Allen's 2013 film – is out today in the US on DVD and Blu Ray. It is also available digitally across various services.
The physical version actually contains special features – two short featurettes. One a look at the red carpet premiere, the second is a 25 minute press conference with Blanchett, Peter Sarsgaard and Andrew Dice Clay.
Here's the full stats for the Blu-Ray:
Actors: Cate Blanchett, Alec Baldwin, Louis C.K., Bobby Cannavale, Andrew Dice Clay, Sally Hawkins, Peter Sarsgaard, Michael Stuhlbarg
Director: Woody Allen
Audio/Languages: DTS-HD Master Audio 5.1 (English), DTS 5.1 (French)
Subtitles: English, English SDH, French
Aspect Ratio: 2.40:1
Number of Discs: 1
Rating: R
Studio: Sony
Blu-ray Disc Release Date: January 21, 2014
Run Time: 98 minutes
List Price: $35.99
Extras:

Notes from the Red Carpet
Blue Jasmine Cast Press Conference
Theatrical Trailer
Previews
UltraViolet Digital Copy
You can purchase the DVD/Blu-Ray from our own Amazon store. If you purchase from there, it helps with the running of this site. We've also sorted other Woody Allen products, and it will be constantly updated. Support us!
The physical version of 'Blue Jasmine' is also out in Australia. The French version is released on 29th January, the UK version will be released in 17th February and the German version on the 14th March. 'Blue Jasmine' is also out on iTunes and various other digital services.
With the physical versions out, we can assume that 'Blue Jasmine' has pretty much finished it's run in theatres. It's box office worldwide total is $95,907,893, and it's likely to stay there. It means it is just short of Vicky Cristina Barcelona's $96.4 million, making it Allen's third highest grossing film worldwide. Which is a surprise, because 'Blue Jasmine' has not performed great in many overseas markets, falling short of what To Rome With Love earned in those markets, despite better reviews.