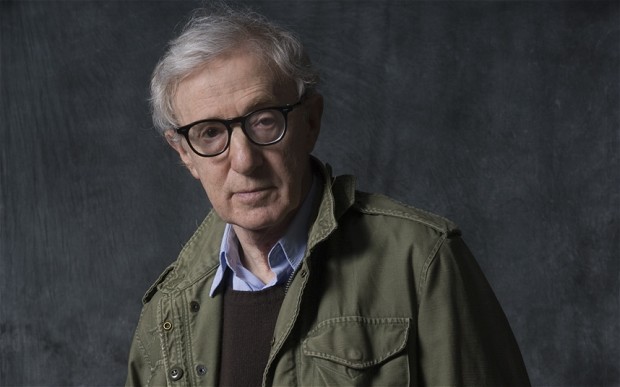 Blue Jasmine has been released to UK cinemas this week. To coincide, two of the big UK newspapers have published new revealing interviews with Allen. Allen also appeared on a BBC radio show.
In the Guardian, Allen spoke to Catherine Shoard
On having Bernie Madoff in mind.
No. I had none of that in mind. I don't engage with public events any more than I ever did. In real life of course I vote, I campaign for people I like, I'm interested in public events. But in writing I'm not, and I wasn't here in any way. It's strictly accidental.
Uncharacteristically, he made some comments on Jasmine's character and a specific plot point, near the end (minor spoilers):
She could have gotten a divorce, forgiven him, had a talk with him, moved out of the house. But she just hit the ceiling blindly and went on a rampage that brought destruction upon her whole household. She never stopped to think out the consequences of her raging moment. You see tantrums in adults all the time. You're driving on the highway and a car bumps you and the driver gets out and he's ready to tear your head off.
Cate Blanchett was also interviewed about Allen.
I think he's incredibly disciplined. People talk about how hands-off he is and how he likes to give actors free rein but he knows exactly what he doesn't want. He eats the same thing for breakfast, wears the same clothes every day. I mean, he washes them – but he has 20 of that same Ralph Lauren silhouette.
In the Telegraph, he spoke to Stuart Husband
Blanchett on being Allen's first choice
I wouldn't care if I was Woody's fifth choice," she says, in response to reports that he wrote the part with her in mind. "The fact is that I got the gig. Yes, I was thrilled and terrified when I got the call. It's like when Scorsese calls, you're going to do whatever he asks you to do and hope you won't screw it up and get the sack. Woody's genius is to put his characters in absurd situations – falling in love with the wrong person, desiring the wrong thing – yet somehow we relate to them. He always creates such interesting new archetypes.
Blanchett on Allen writing for women.
I think he understands what fabulous, unusual, complex, volatile creatures we are.
On 'A Streetcar Named Desire'
Firstly, I never wanted to see any production of Streetcar after I saw Elia Kazan's movie many years ago, because I thought that was absolute perfection and those characters should never be played by anyone else again. And I had no interest in Madoff's wife. What happened was, my own wife came home one day and told me a story of a friend of hers, who knew a woman who was very wealthy – private jets, boats, lavish parties – and it all collapsed on her after 10-12 years, with the government taking her houses and jewels and money, and she was traumatised and broken by it. I thought it was a tragic story, so I went to work on it.
On his own gloominess
I remember the dark cloud descending then, and I've walked around under it my entire life. There's a neuro-biological theory that these things are imprinted, hardwired – this guy's gloomy, this one's sunny – and there's nothing you can do about it. We're not born with a clean slate, as Sartre would have you think; rather, we have a little photograph on our negative and it's how you manage that in the developing fluid. Some manage that process better than others, but the imprint is always there. So I need to work to keep my gloom at bay.
And finally, a confirmation that the cable companies have come calling.
Cable networks have made me offers to do whatever I want, but my ideas are movie ideas, not 15-episode ideas.
Both interviews are worth reading in full. There's plenty of minor revelations abound.
There's also a feature in the new UK edition of the Big Issue. The website has published a small excerpt.
Finally, Allen was interviewed for BBC's Front Row. The 30 minute feature includes Sally Hawkins and Mike Leigh (interestingly, the two directors have never met).
There's a bit of video interviews from the UK which we will wrap up in our VOTW features.
Blue Jasmine is out now in the UK.