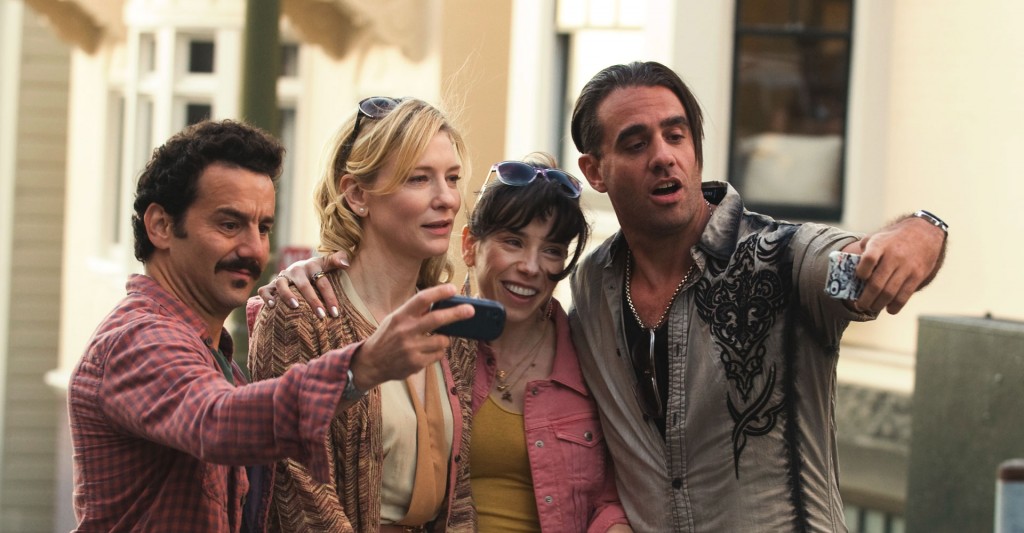 Sony Pictures Classics just held a press screening for Blue Jasmine, the new film from Woody Allen. As a result, reactions and reviews are coming in through twitter – and they are overwhelmingly positive.
Most of the postivity is around Cate Blanchett's performance. But the overall film seems to be a winner, with Sally Hawkins and Andrew Dice Clay getting praise as well. Many of the below also had follow up twitter conversations discussing the film. If you don't mind ruining this for yourself, you can do a search for Blue Jasmine on Twitter for more.
Here are those tweets.
Kristoopher Tapley at HitFix.com
Blue Jasmine is fantastic. Tour-de-force from Blanchett.

— Kristopher Tapley (@kristapley) July 9, 2013
BLUE JASMINE, Woody Allen's new film, might be his best in 20 years. in theaters 7/26, look for our review week of release.

— film.com (@filmdotcom) July 10, 2013
Matt Patches
Blue Jasmine is unnerving. Blanchett isn't a Woody Allen proxy, she's a worst case scenario. Sally Hawkins as the foil is marvelous.

— Matt Patches (@misterpatches) July 10, 2013
Christopher Rosen – Huffington Post Entertainment Editor
"Blue Jasmine" is fantastic. Crushing, funny, Woody. Let's all agree to throw awards at this one.

— Christopher Rosen (@chrisjrosen) July 10, 2013
Jason Guerrasio
Get that Oscar talk going for Cate Blanchett. Yes, she's that good in BLUE JASMINE.

— Jason Guerrasio (@JasonGuerrasio) July 10, 2013
Adam Langer
Amazing performances by Sally Hawkins & Cate Blanchett in Woody Allen's #BlueJasmine. But Tennessee WIlliams's estate might want royalties.

— Adam Langer (@Adam_Langer) July 10, 2013
Reverse Shot Magazine
Strong stuff, Woody. Quite broad but drives viewers to the breaking point. #bluejasmine

— Reverse Shot (@reverse_shot) July 10, 2013
Kate Erbland, MSN Movies
BLUE JASMINE is welcome respite during another block(bust)er summer. Its inspired casting is only matched by the actual performances.

— Kate Erbland (@katerbland) July 10, 2013
David Ehrlich, film.com
BLUE JASMINE: maybe Woody Allen's best since Bullets Over Broadway?Lightly didactic but ferociously blunt & bitter. Blanchett is possessed.

— david ehrlich (@davidehrlich) July 10, 2013
Dusty Wright
Caught advance screening of #WoodyAllen's excellent new drama #BlueJasmine. #KateBlanchett is phenomenal. Not to be missed…

— Dusty Wright (@DustyWright) July 10, 2013
Finally, Showbiz411 has posted about the screening, and how it was so full it had to have a second screening.
At last: we saw Woody Allen's "Blue Jasmine" tonight in a screening room so full at Sony that an overflow room had to be booked at Dolby down the street. It's a little early for a real indepth review since "Blue Jasmine" doesn't open until July 26th. Still, I will tell you that Cate Blanchett is a cinch for a Best Actress nomination. She could win the whole enchilada, too. She'd be Woody's first Best Actress since Diane Keaton in 1978′s "Annie Hall."
Allen's not usually that favoured by US critics, however twitter is usually the place for champions. It is hard to gauge how audiences might react, and if this could be another Midnight In Paris level hit.
'Blue Jasmine' officially opens 26th July in New York and LA – just over two weeks away!