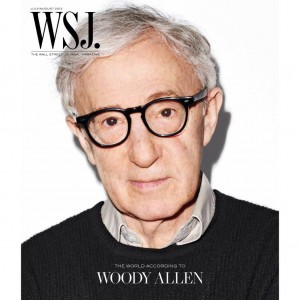 As teased earlier, Woody Allen graces the cover of the Wall Street Journal Magazine, out today. The extensive cover feature written by Charles McGrath features new quotes from friend and writing partner Marshall Brickman, star of Blue Jasmine Cate Blanchett, casting director Juliet Taylor and Allen himself.
You can find the full, wonderful article at WSJ. Revelations abound. 'Blue Jasmine' was inspired by a story from Soon-Yi. Brickman and Allen still catch up every month or so. And much, much more.
Here are some quotes from the four interviewed subjects.
Brickman (who co wrote Annie Hall and others with Allen) on how Allen conducts his career.
Some instinct told him what choices to make, like not going to the Academy Awards, keeping himself apart a little, and yet so often delivering on the promise. He's figured out how to survive in a very hostile and competitive environment.
Blanchett on playing Jasmine in 'Blue Jasmine'.
This kind of opportunity doesn't come along all the time. The character's like a combination of Ibsen, Tennessee Williams and Shakespeare. There's such electricity in the gap between her knowing and not knowing.
Taylor on Allen's casting process.
He's very cognizant of how some people like to see certain actors, but that's not required of him in terms of putting a deal together. He doesn't get too attached to any one idea. He'll want someone, and if it doesn't work out, he'll just pick himself up and go on to someone else.
Allen on getting older and not being in front of the camera.
It's an inevitable disaster of aging, and there's nothing I can do about it. I can't play the scenes where I'm sitting opposite Diane Keaton or Mia [Farrow] or Dianne Wiest or Judy Davis. If I think of parts for myself now, all I can be is Pop, the lovable doorman backstage at the theater who takes phone numbers for the guys, or the psychiatrist, or the amiable dad at the wedding. I like to be the lover.
On his infamously relaxed shooting style.
I don't have a technical attention deficit disorder, but I have an honorary one. I don't have the patience or the concentration to shoot hours of us talking in a two-shot, and then your single and my single and from over your shoulder and over my shoulder. I like to do as many pages as I can in one take.
You can read the full article at Wall Street Journal Magazine. The two images below from the story are taken by Terry Richardson.
This is the first real interviews we've seen that covers 'Blue Jasmine'. We are sure there will be plenty more to come.
'Blue Jasmine' is out in limited release across the US on 26 July (only four weeks!)
UPDATE: Here's the complete images and outtakes from the photoshoot