Woodywatch is our column that reports on Woody Allen sightings. There's a couple of rules – no pap shots, and no regular Monday night Jazz at the Carlyle because we'd be here every week. We might have to put Knicks games at Madison Square Garden on there, as Allen has been going to games regularly for decades.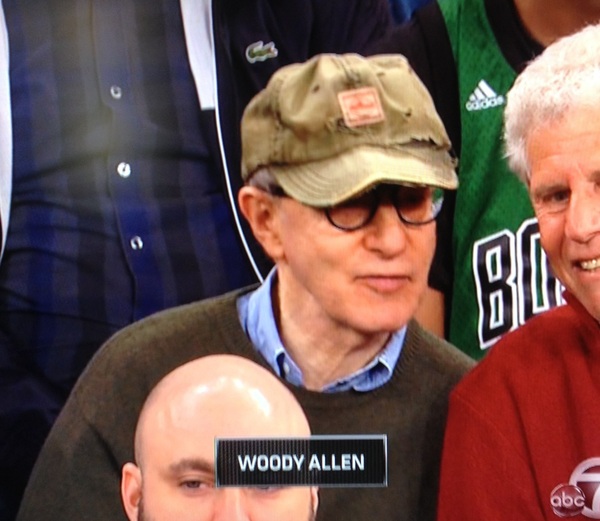 Allen was spotted yet again on the 20th April 2013, with his occassional sideline buddy Tony Roberts, who appeared with Allen in Annie Hall, Play It Again, Sam and others. ESPN showed them on telly, and some twitter folks took pics.
They watched the Knicks take the Celtics 85-78, in the first game of the playoff series. It was an emotional game for the Boston Celtics, after the week they've had. Read the recap at the New York Times.
Other celebs spotted at the game – Spike Lee, John McEnroe, Michael J Fox (Don't Drink the Water) and Ricky Gervais. Lee and Allen are probably the most visible of all Knicks fans, and there is a tumblr dedicated to them.
As usual, social media made many comments about Allen's hat. We don't know what the deal is either, but he's been wearing them to Knicks games for years. A good luck charm perhaps? It certainly worked for the Knicks.
Check out all our previous Woodywatch.