UPDATED 2013 Details here – Performance News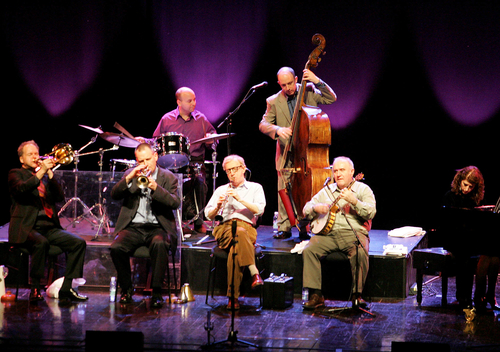 Woody Allen & the Eddy Davis New Orleans Jazz Band returns to their regular Monday night residency at the Carlyle Hotel in New York, according to the website of Jerry Zigmont. Zigmont is the trombonist in the band, and one of the more visible members of Woody Allen's circle on Twitter (@jerryz).
The band will perform January 14, 2013 thru June 17, 2013, every Monday night, at:
The Carlyle
35 East 76th Street
New York, NY 10021
212-744-1600
Performance time approximately 8:45 p.m.
Cover: $145 per person, $30 drink min ($100 bar + $15 drink min)
For information and reservations, call 212.744.1600.
2013 marks the 40th anniversary of Woody Allen's musical perfomance career. He began in 1973 playing Michael's Pub. Allen and Eddy Davis started a new band and began performing at the Carlyle in the late 90s, and more weeks than not, they have performed on Mondays ever since.
Jazz, of course, plays a big part in Allen's films. Most famously, when he didn't attend the 1978 Academy Awards (when Annie Hall was nominated), his reason was he had a show to play. Allen's love of Jazz was explored in the documentary Wild Man Blues.
The Monday Night Carlyle shows usually sell out, so get in fast.
Why until June 17th? Perhaps that is when we will see the release of Woody Allen's 2013 film.
Here's Woody Allen & the Eddy Davis Jazz Band play a New Year's gig in Barcelona, 2008.