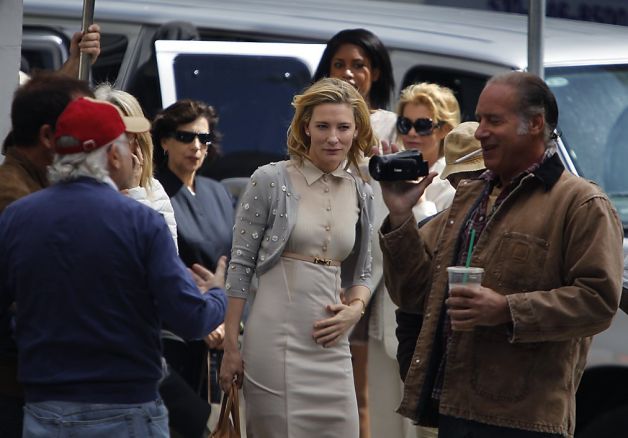 We had the scoop last week, but it looks like everyone's picked up on it now. Woody Allen's 2013 film is called 'Blue Jasmine' and the distributor will be Sony Picture Classics for North America. This has been confirmed today in a short press release.
Here's the press release:
SONY PICTURES CLASSICS ACQUIRES WOODY ALLEN'S BLUE JASMINE

Film marks sixth collaboration with the filmmaker and Sony Classics

NEW YORK (January 8, 2013) – Sony Pictures Classics announced today that they have acquired all North American rights to Woody Allen's next film, BLUE JASMINE from Gravier Productions.

Produced by Letty Aronson, Stephen Tenenbaum and Edward Walson, BLUE JASMINE has another all-star cast which includes Alec Baldwin, Cate Blanchett, Bobby Cannavale, Louis C.K., Andrew Dice Clay, Sally Hawkins, Peter Sarsgaard and Michael Stuhlbarg.

It is the story of the final stages of an acute crisis and a life of a fashionable New York housewife.
That housewife is played by Cate Blanchett. It has been described as a 'serious drama', and we have covered it extensively throughout the year.
The press release is the first time we've heard about Michael Stuhlbarg joining the cast. A wonderful actor, we loved him in films like 'Hugo' and 'A Serious Man'. He's also starring in HBO's 'Boardwalk Empire'. There's also the absence of Michael Emerson, who was never photographed during filming, and perhaps is no longer in the film.
Other new information for us – Blanchett's character is married. No confirmation on whether her character's name is Jasmine. We can perhaps make a guess that her husband is Alec Baldwin – as he was mainly in NY filming, and was seen with her, but did not follow as her character made her way to San Francisco.
We also knew Focus Features International would be handling the ex-US distribution. Sony Picture Classics was always the favourite the front runner for the Us rights, having handled every Allen film since 2009's Whatever Works. Focus Features International and Sony Picture Classics were both involved with To Rome with Love.
You can check out our wrap-up post with almost everything we know, and our new Blue Jasmine tag to see all our images and news from this film so far.