A twice monthly round-up of Woody Allen news bits.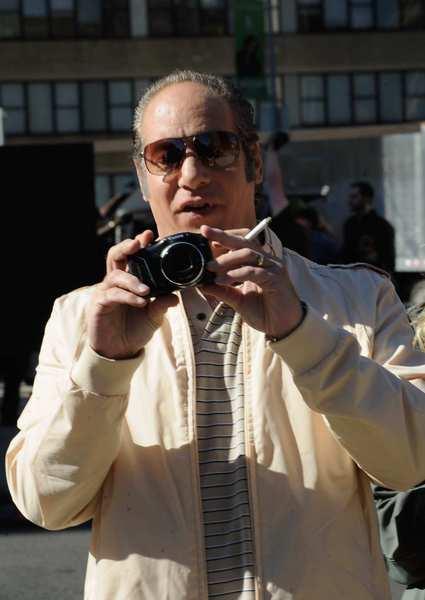 Filming has wrapped on Woody Allen's 2013 film. One actor who we didn't see much of during filming is Andrew Dice Clay. But after we did our wrap up, this photo of him on set hit the web.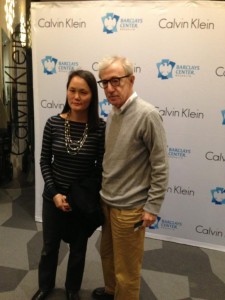 We assume Allen is either working on the edit or preparing for his next film 'Fading Gigolo'. But he and Soon-Yi Previn were snapped seeing Barbra Streisand perform at the Barclays Center in Brooklyn.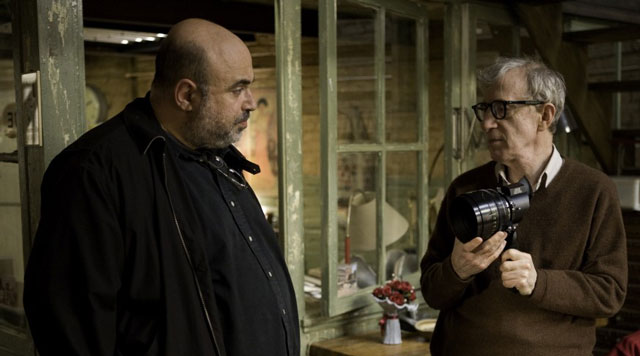 Harris Savides passed away on 9th October 2012 in Manhattan. Savides was a cinematographer who worked with Ridley Scott, Gus Van Sant and David Fincher. Savides and Allen worked together on one film – Whatever Works. We particular loved his work on the film 'Milk'.
Read about Savides life at the NY Times.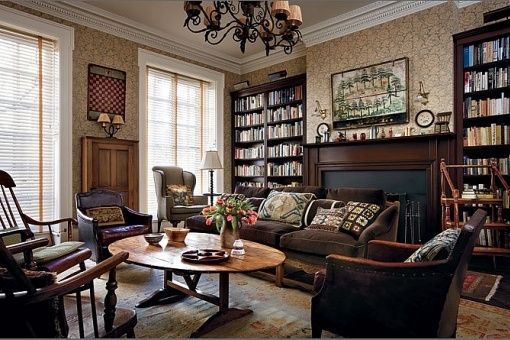 Book Riot has a wonderful article about the libraries of the rich and famous. Included in the list is the personal library of Woody Allen. It looks very comfy and we'd love to see a high-res version and see some of the books.
Check out the full list at Book Riot, including libraries of Diane Keaton, author Neil Gaimain, George Lucas' Skywalker Ranch and more.
Dvice, run by the SyFy channel, has written a nice piece about the technology of Sleeper that has come true – all 13 of them! Sleeping pods, self driving cars, video calls and much more!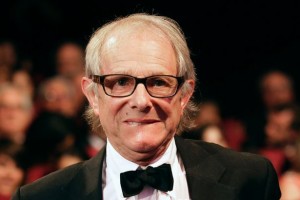 Legendary British director Ken Loach has been in the press, promoting his new film 'Angel's Share'. In an interview with The Daily Record, Loach mentioned Allen when asked about directing.
"Directing is a young man's job really. I wish Woody Allen would stop and then I could stop."
Loach and Allen are both 76 years old and directed his first film, 'Poor Cow', in 1967. We love 'Kes', his great 1969 film. Looks like it's a race to see who stops first.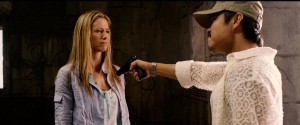 Mira Sorvino has also been in the press promoting 'Trade Of Innocents', a film that takes a look at the horrors of global sex trafficking. Long Island Press asked her about her Academy Award winning role in Mighty Aphrodite, and playing a prostitute for laughs.
"More of her life was about being a porn actress, than a prostitute. And she was very excited about her porn career. But it's a silly idea. Although I think, a wonderful movie. But I think I would look at it differently, if I were offered it now."
There's more about Woody and her new film at Long Island Press.
Sorvino was not the only one reflecting on a Woody Allen role. Edward Herrmann was interviewed by the AV Club about some of his past roles in his long career. One of the roles he discussed was that of Henry in The Purple Rose Of Cairo.
"It's the only film I've worked on in which the assistant director said, "Action." Woody didn't even say, "Action." He would sort be standing behind a flat, peeking around the edge of it."
AV Club has a lot more about that filming, and other roles Herrmann's played (although, no Gilmore Girls).
"Who's Afraid Of Virgina Woolf?" celebrates 50 years on Broadway. The NY Times collected a series of quotes from people who were there – including Woody Allen's six word:
"I saw it and liked it."
Better quotes from composer Stephen Sondheim, director Mike Nichols and actress Elaine Stritch.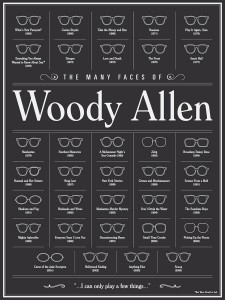 Little Truhan has made a great graphic collecting the glasses Woody Allen has used in his films – from What's New, Pussycat? to Scoop.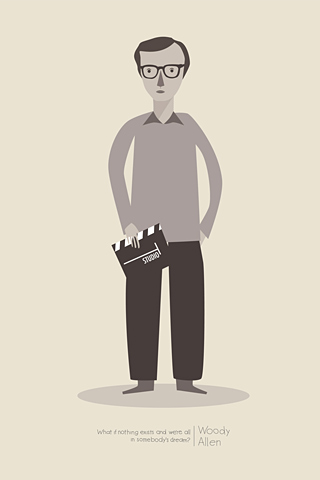 Something that was shared on twitter this week that we never saw before. Poolga makes cute background images for your iPhones and iPads. They have a pretty cool one of Woody Allen by Judy Kaufmann. Find versions that are right for your phone at Poolga.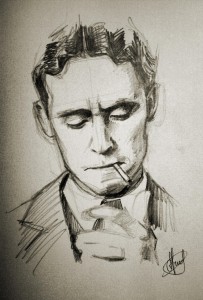 Society6 are selling a great drawn print of Tom Hiddleston as F Scott Fitzgerald from Midnight In Paris. The piece, drawn buy Hash, is avaiable to buy in two versions.
Finally, more Woody Allen-ised fan trailers. Here's The Dark Knight.