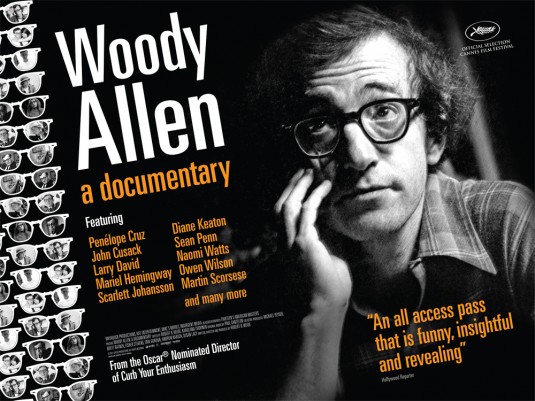 Woody Allen: A Documentary premiered this week in the UK and other markets. Reviews from the big UK papers have started to appear online.
Peter Bradshaw, Guardian, UK, gave the film 3 stars:
I watched this engaging film with a great big smile on my face. I don't think anyone with any love for Allen, or the cinema, could fail to do anything else. To see him scribbling scripts on his yellow legal pads or hammering them out on a typewriter that he has had since a teenager is almost awe-inspiring. There can't be a life story in postwar American cinema more inspiring than his: the comic genius who started out as a gag-writer for the newspapers, then a standup, and then a film-maker who insisted on auteur prerogative without ever needing to use the word, and who became an evangelist for the masters of European cinema.
Robbin Collins in the Telegraph, UK, also gave it 3 stars
There is more to Woody Allen: A Documentary than its modest title suggests, although perhaps not quite enough to justify swapping that "a" for "the".
Donald Clarke of the Irish Times, also gave it 3 stars, but was slightly more damning
There are echoes of No Direction Home, Scorsese's Dylan documentary for the same series, but this is a somewhat less chewy, less rigorously researched piece. Its subject has many amusing things to say, but he doesn't engage with the interviews quite as enthusiastically as did the hitherto opaque singer.
Derek Malcolm from the Evening Standard has the most praise with four stars
Films about film-makers are not always so entertaining, but this one about a man who never brags and views any praise with a rheumy eye is a pleasure.
We at Woody Allen Pages will publish our own review of the documentary soon. But it seems that most reviewers have enjoyed the film, but wanted more dirt on Soon-Yi.
Woody Allen: A Documentary is now showing across parts of Europe, with Germany opening next on July 5th.