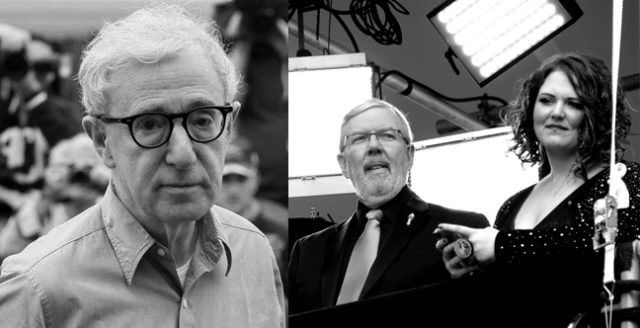 Woody Allen has a new film out in the US. It's called Rifkin's Festival and it's in select cinemas and VOD. Allen has never been one to do interviews, but he's really taken to doing podcasts in recent years. Taken to in the sense that he went from zero to one or two a year. The latest in Maltin On Movies, the podcast hosted by legendary film critic Leonard Maltin and his daughter Jessie.
Listen here:
The hour long interview covers lots of ground, and plenty of new information. They only briefly touch on Rifkin's Festival but they all talk about the love of film festivals, with Allen declaring San Sebastián, the setting of Rifkin's Festival, one of the best.
They talk about how Allen discovered New Orleans Jazz, his work with editor Ralph Rosenblum, working with his two daughters (who had crew roles on the new film) and how he's still writing every day.
Most excitingly he gives an update on several upcoming projects. The upcoming Paris film is still very much on the cards with spring or summer production in mind. But only if COVID clears up (although he notes separately that his daughter Manzie Allen is working on a production in Paris later this year). Allen has a play that is set to go into rehearsals in the near future and will likely be staged before the year is out – again COVID depending.
He also gave away the title of his new book. It's called Zero Gravity and it's a collection of comic writings along the lines of Mere Anarchy, Without Feathers and more. It collects some casual pieces he's written for other publications in the last decade and a half, as well as some new pieces. Allen must have a publisher in place as he mentions it will be released in May.
The Maltin On Movies podcast is great and it's always worth considering supporting Allen supporters. There's previous episodes with Woody Allen: A Documentary director Robert Weide, Blue Jasmine and Crisis In Six Scenes star Max Casella, Deconstructing Harry's Bob Balaban, Mighty Aphrodite's Peter Weller, To Rome With Love's Greta Gerwig, Rifkin's Festival's Richard Kind and many more.
Allen has also done recent interviews as Rifkin's Festival rolled out in Mexico and South America. He spoke to Premiere in Mexico and there's another video interview with him below.
Hopefully it's shaping up to be a busy year for Allen. Film production is complicated but a play and a new book are definitely things to look forward to.
Thanks to the twitter account Woody Allen Web for the image.
https://twitter.com/woodyallenweb/status/1487071337789202433?s=21