Well, if 2020 wasn't already weird enough, here's the news some thought would never happen. Woody Allen's film A Rainy Day In New York will be released nationwide in US cinemas on 9th October 2020.
The release comes with a rejigged poster (above) and a trailer (below). Also a new synopsis:
Woody Allen returns to the romantic fields of previous hits Vicky Cristina Barcelona and Midnight in Paris, assembling an all-star cast also including Timothée Chalamet, Elle Fanning, Selena Gomez, Jude Law, Diego Luna and Liev Schreiber, for a charming, sizzling and comedic tale set amidst the fast-paced dizzying streets of The Big Apple. A RAINY DAY IN NEW YORK tells the story of college sweethearts, Gatsby (Chalamet) and Ashleigh (Fanning), whose plans for a romantic weekend together in New York City are dashed as quickly as the sunlight turns into showers. The two are soon parted, and through a series of chance meetings and comical adventures they will discover that, while you only live once, once is enough if you find the right person.
The film was originally set to be released in 2017. The DVD and Blu-Ray will follow on 10 November 2020. You can pre-order it on, ironically, Amazon. Here's the blu-ray and DVD covers.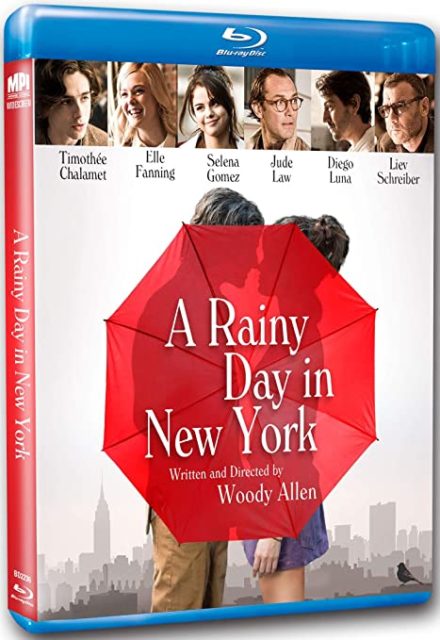 The release comes from Signature Entertainment, who recently handled the release of the film in the UK and Australia. That means it will have been released in all countries that will usually take an American film. The film has made $21 million around the world to date.
You can find US session times from Landmark Theatres.