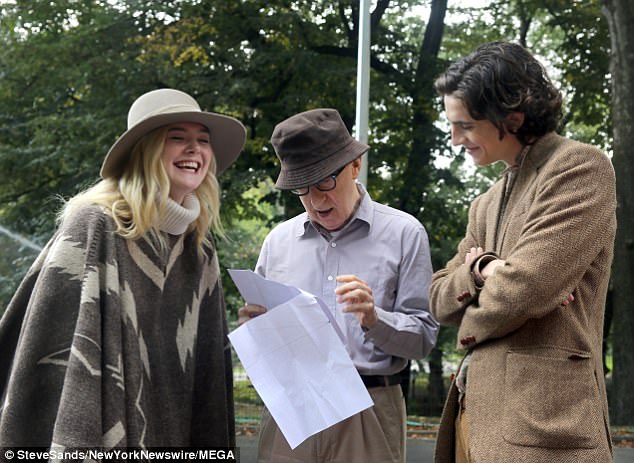 Filming continues into the third week on Woody Allen's 2018 Film. In the last few days, filming continued to focus on the trio of young stars – Timothée Chalamet, Elle Fanning and Selena Gomez. But we also got our first look at Jude Law.
Rain continued on the 26th, as Gomez and Chalamet shared a kiss in the rain. The location was Central Park. Fanning was also there in a separate scene. Shooting also took place on East 64th Street. Daily Mail had pics.
On the 27th, Elle Fanning shot scenes in a trench coat and artificial rain at night. The location was in front of 47 East 64th Street. Not much else was seen, so perhaps interiors were also shot, likely at the Hotel Plaza Anthenee nearby. Pics from Daily Mail.
On the 28th, we got our first look at Jude Law, in scenes with Elle Fanning. Filming location was 46th St between 8th & 9th Ave. Pic from Daily Mail.
For those keeping score, every scene of Chalamet has him wearing the same jacket.
Not much else to go on, as filming continues. Friday will see Allen return to the Kaufman Astoria Studios in Queens, according to posted signs. Allen shot several of his 80s films there, but hasn't shot there since Whatever Works.
We'll be keeping you updated on production as it continues in New York.