Café Society is the new film written and directed by Woody Allen. Today, we got the poster. And it looks gorgeous. Click on it for a bigger version.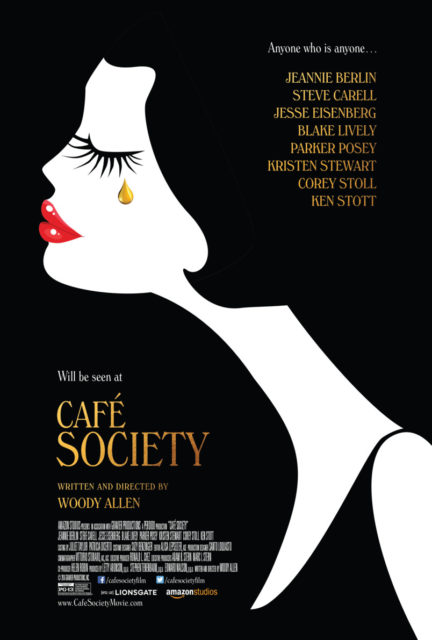 It's Woody Allen's good old Windsor Light Condensed font. The cast's big star names have not changed, and written in alphabetical order – Jeannie Berlin, Steve Carell, Jesse Eisenberg, Blake Lively, Parker Posey, Kristen Stewart, Corey Stoll and Ken Stott. A tagline too – Anyone who is anyone will be seen at Café Society.
It's a bold and distinctive design. Very elegant, and strongly shows the jazz era where the film is set. It's unusual for Allen's films to not show off the casting – at least four of the stars listed have been the sole leads of films in the last year or so. It's a bold step to make the main selling point of the film be about aesthetics.
There's a website that doesn't seem to work yet at CafeSocietyMovie.com. The poster also mentions currently inactive Facebook and Twitter accounts.
It also means we get to make a new banner on the website. We now have 46 of 'em, one for every one of Allen's films. Here's the one for Café Society and you can always see it on the Café Society page.

This is the US poster, with US companies Amazon Studios and Lionsgate mentioned. It is released on 12th August in the US, and 11th May in France, when it also opens the 69th Cannes Film Festival.
UPDATE: Here's the French poster, with a Title Case logo (which looks a little better maybe?) and French logos, taglines and credits.