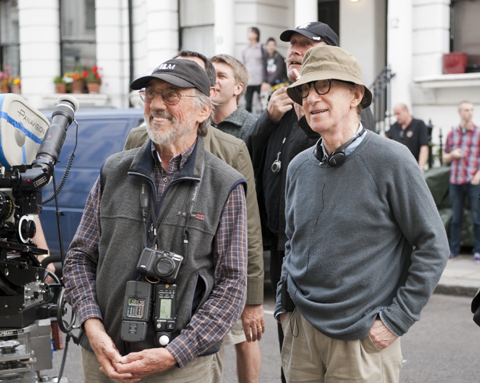 Vilmos Zsigmond has passed away. The legendary cinematographer was responsible for dozens of classic films including 'Deliverance', 'Close Encounters Of the Third Kind', 'The Deer Hunter', 'Heaven's Gate' and more. He also worked three times with Woody Allen. He had the nickname Master Of Light.
The three films that Zsigmond worked on are Melinda And Melinda, Cassandra's Dream and You Will Meet A Tall Dark Stranger. Not the most acclaimed bunch of Allen's films, but they definitely look great. Zsigmond also appeared in 2011's Woody Allen: A Documentary.
In 2010, he talked to Hollywood News about working on the then current "…Dark Stranger".
There were no storyboards. Woody and I spoke about how he wanted to cover each scene, and then did a rehearsal. We shot at least 98 percent of the film with one 35 mm Panavision film camera that was frequently on a Steadicam following the actors. It wasn't unusual for us to do three minute takes in one shot with Woody standing next to the camera experiencing the film the way audiences will see it.
In 2013, Zsigmond spoke to the LA Times, and mentioned Allen.
I learned a lot from Woody Allen because I did three movies with him and he loves long-lasting shots. He'd start with a wide-angle shot, and then the camera dolly would move closer and closer and he doesn't cut away. With modern movies, you're shaking your head because there are so many cuts.
In 2014, he spoke to Filmmaker Magazine about working with Allen.
I worked with him three times, and the relationship didn't change too much. Woody is a great writer and a good director, he's good with actors, the visuals for him are not as important. It's not like working with Michael Cimino or Brian De Palma, the ones I worked with a lot. Woody basically wants to have good performances and it's about the storytelling. But I loved that Woody and I could do long-lasting scenes, scenes that are going on two minutes, three minutes, four minutes in one shot. He's very good at it. I like that style. In the long-lasting scenes, the actors can act better because it's like being on the stage. Directors forgot about the art of acting for a long time, they just wanted to do cuts and editors just want to cut, cut, cut. In music videos they want to cut every second and I don't like that style that much.
2014 was also the year the Cannes Film Festival gave him the Lifetime Achievement Award.
He and Allen shared a sense of style as well.
As you can see, Zsigmond was not only extremely talented, but extremely passionate about his work. He was always willing to talk about his craft and impart wisdom on the next generation. And he was a champion of the filmmakers he worked with. A cool guy all round really.
He was 85. Read Variety's obituary.